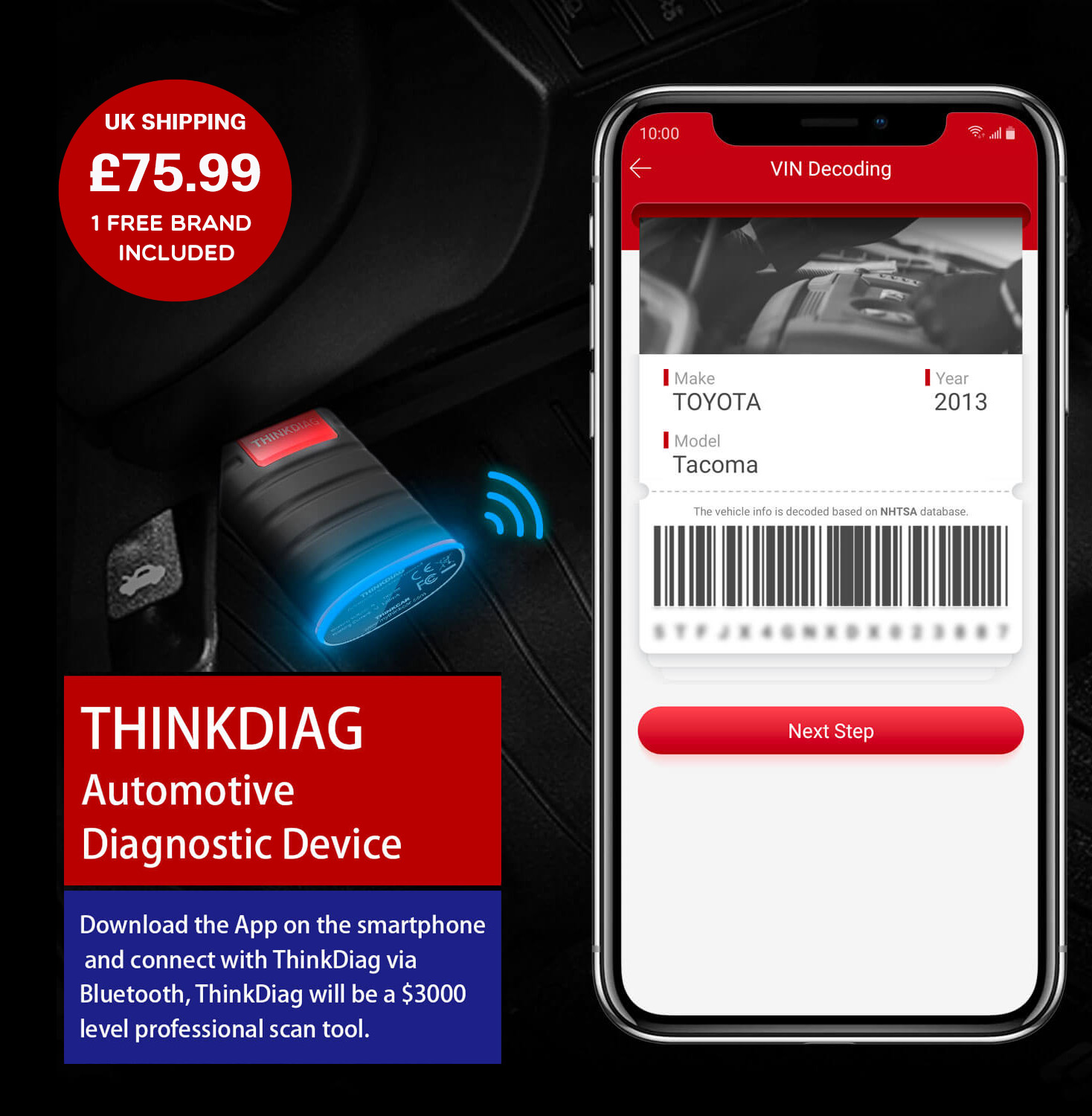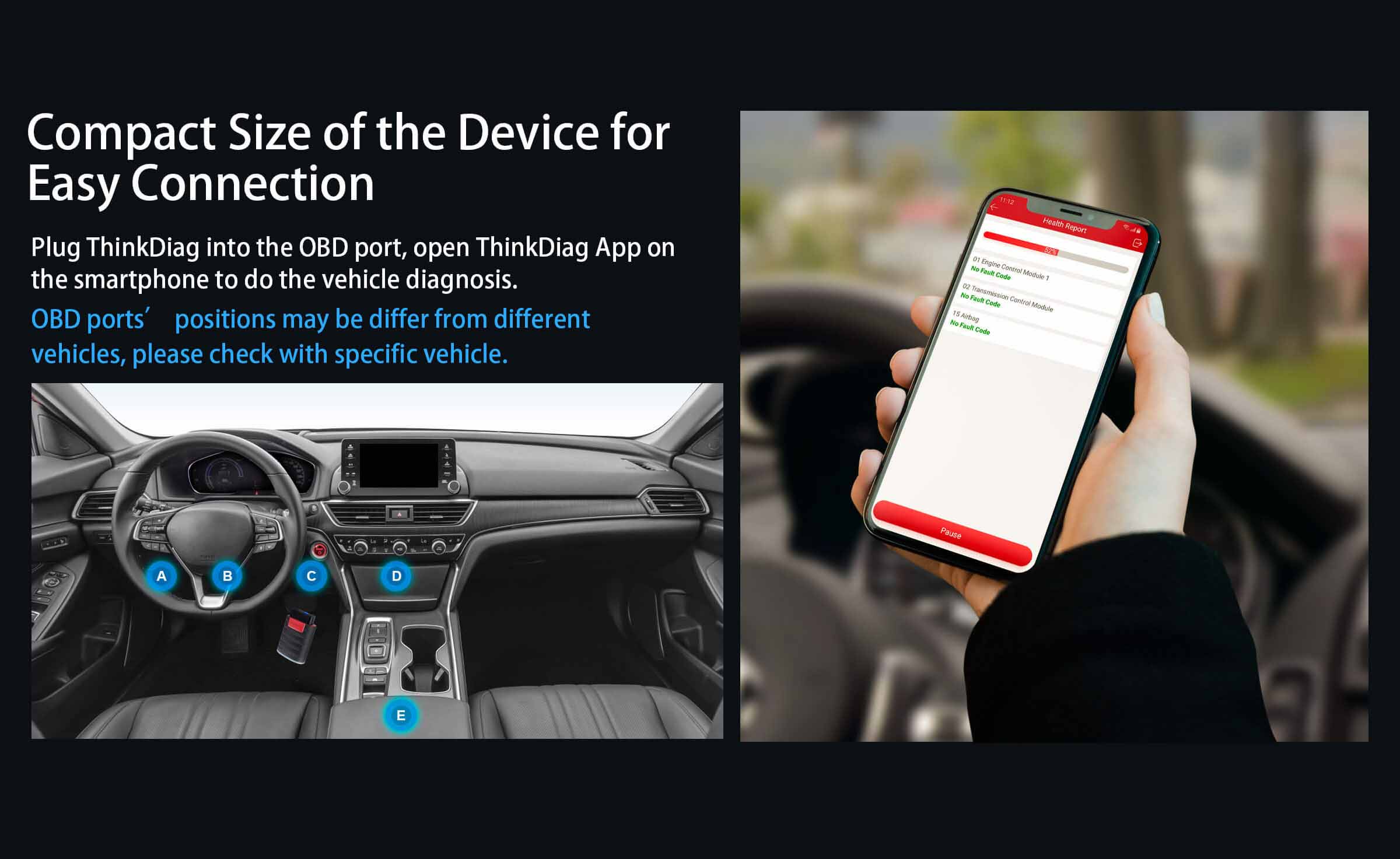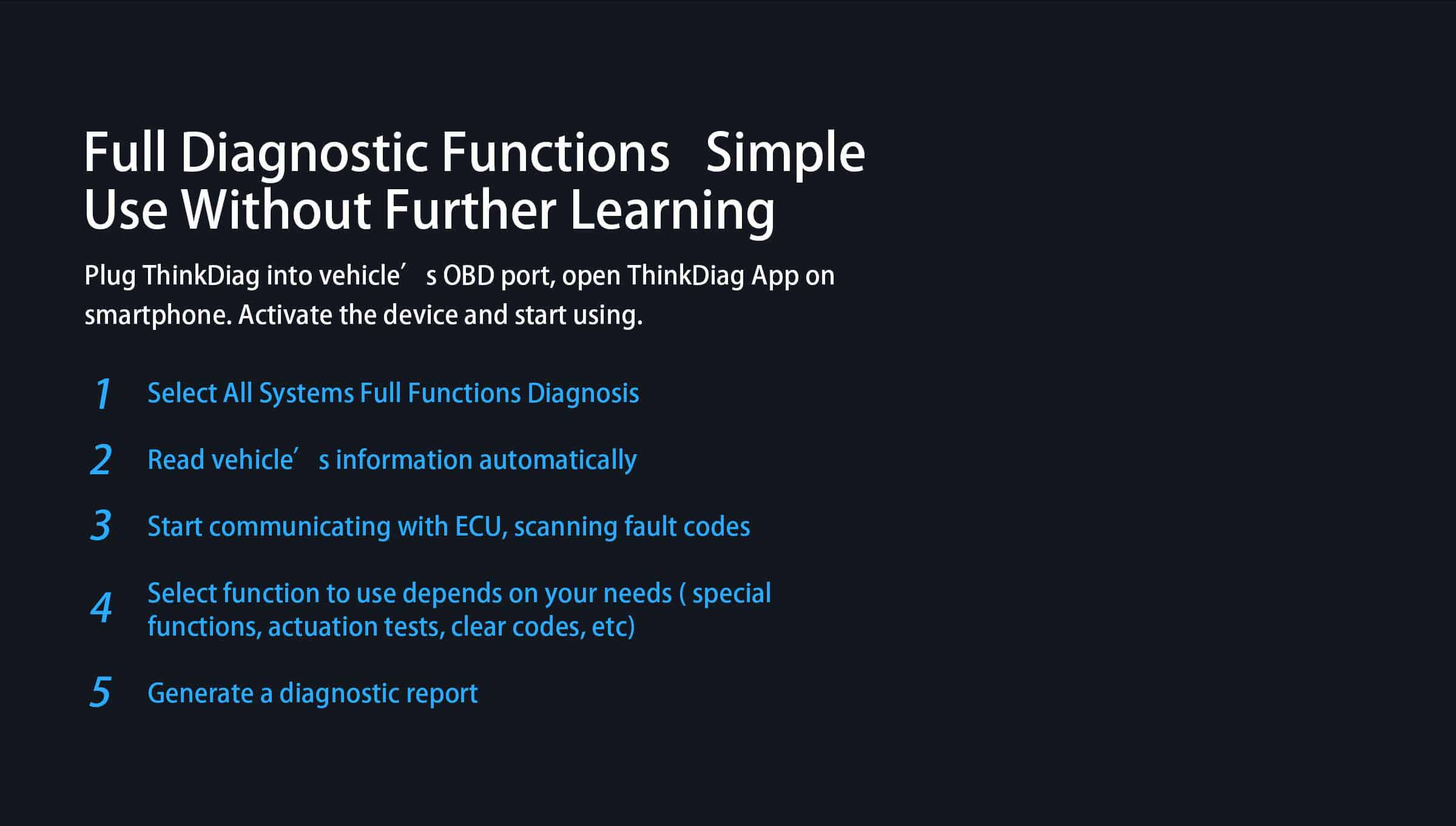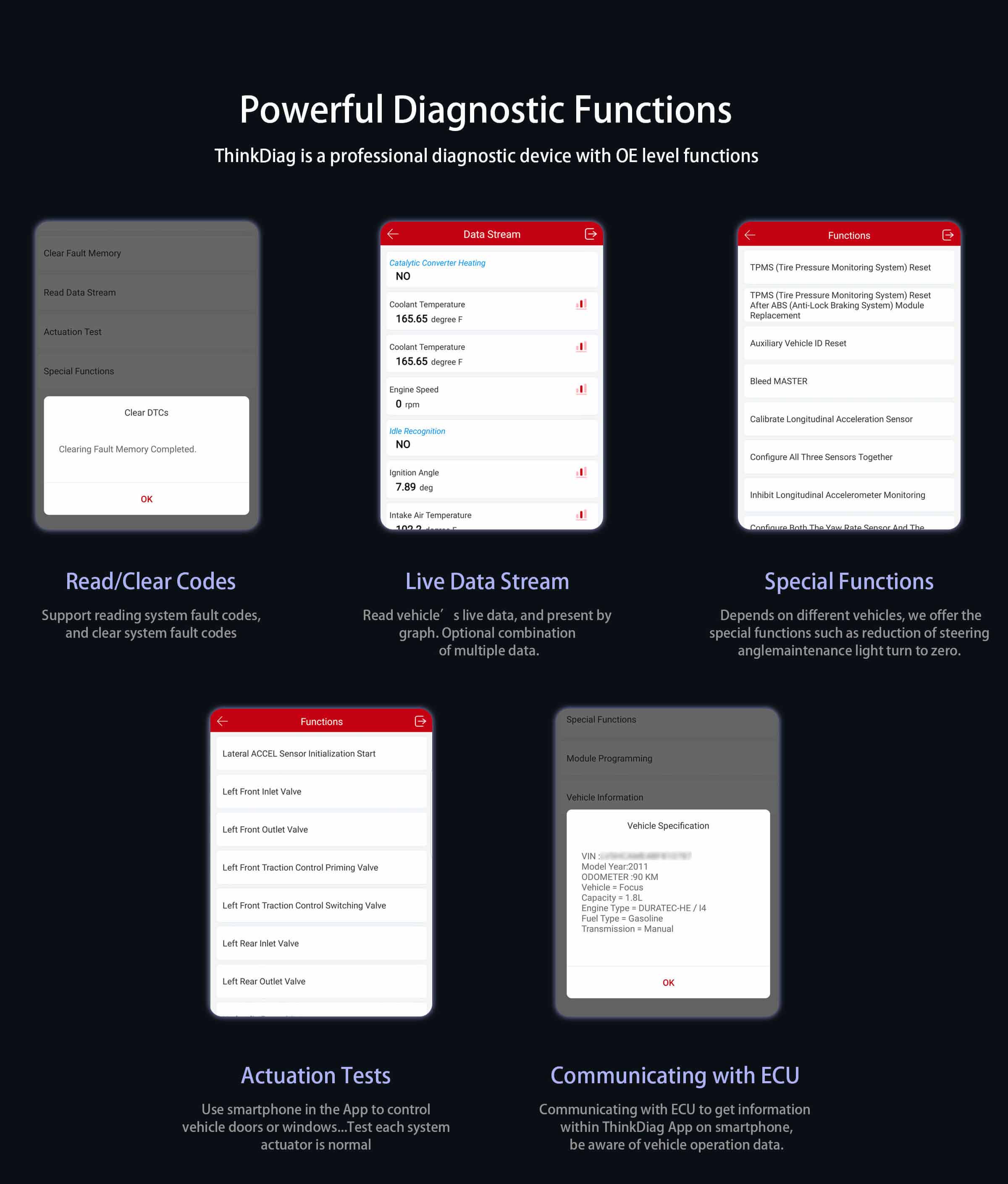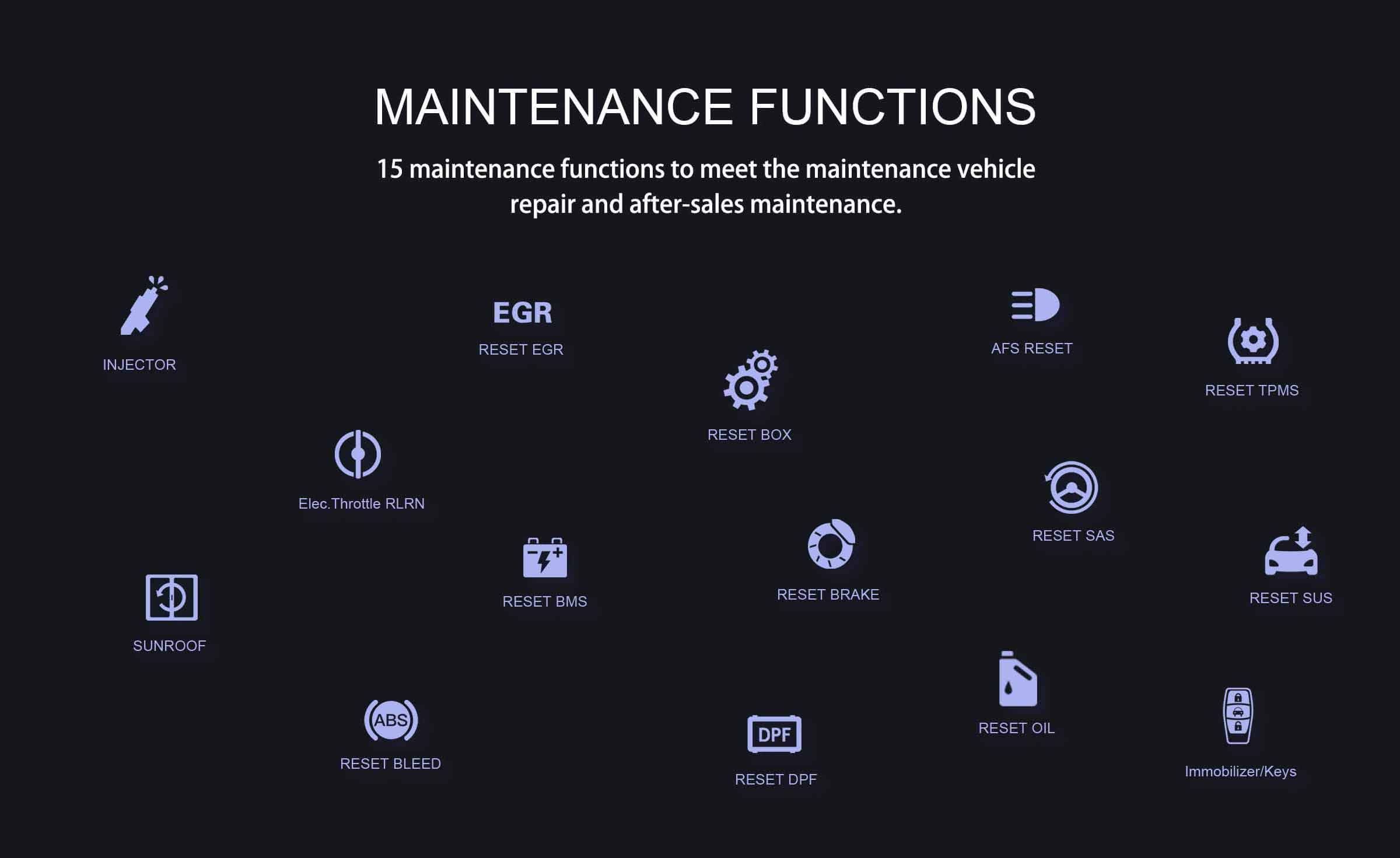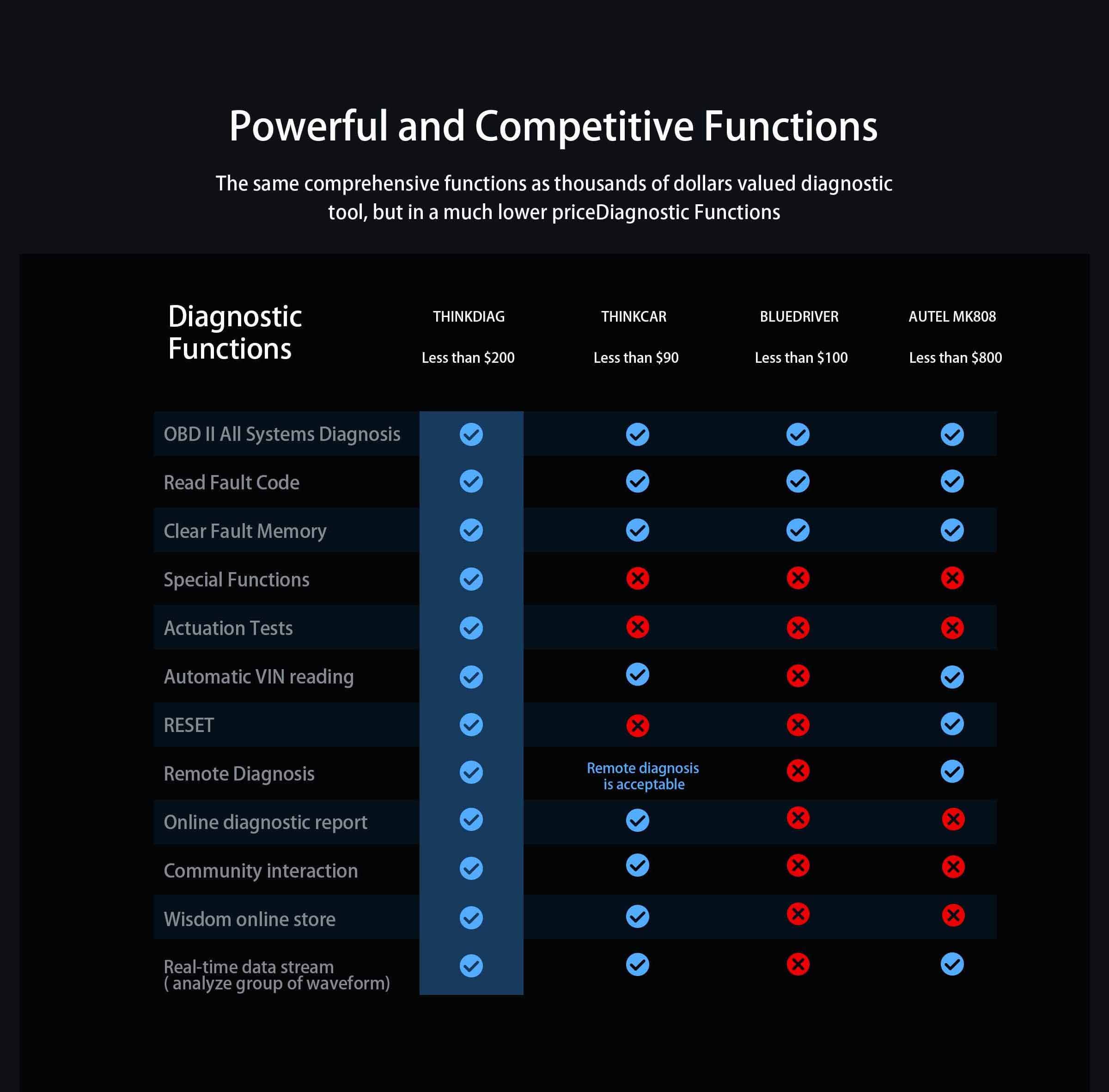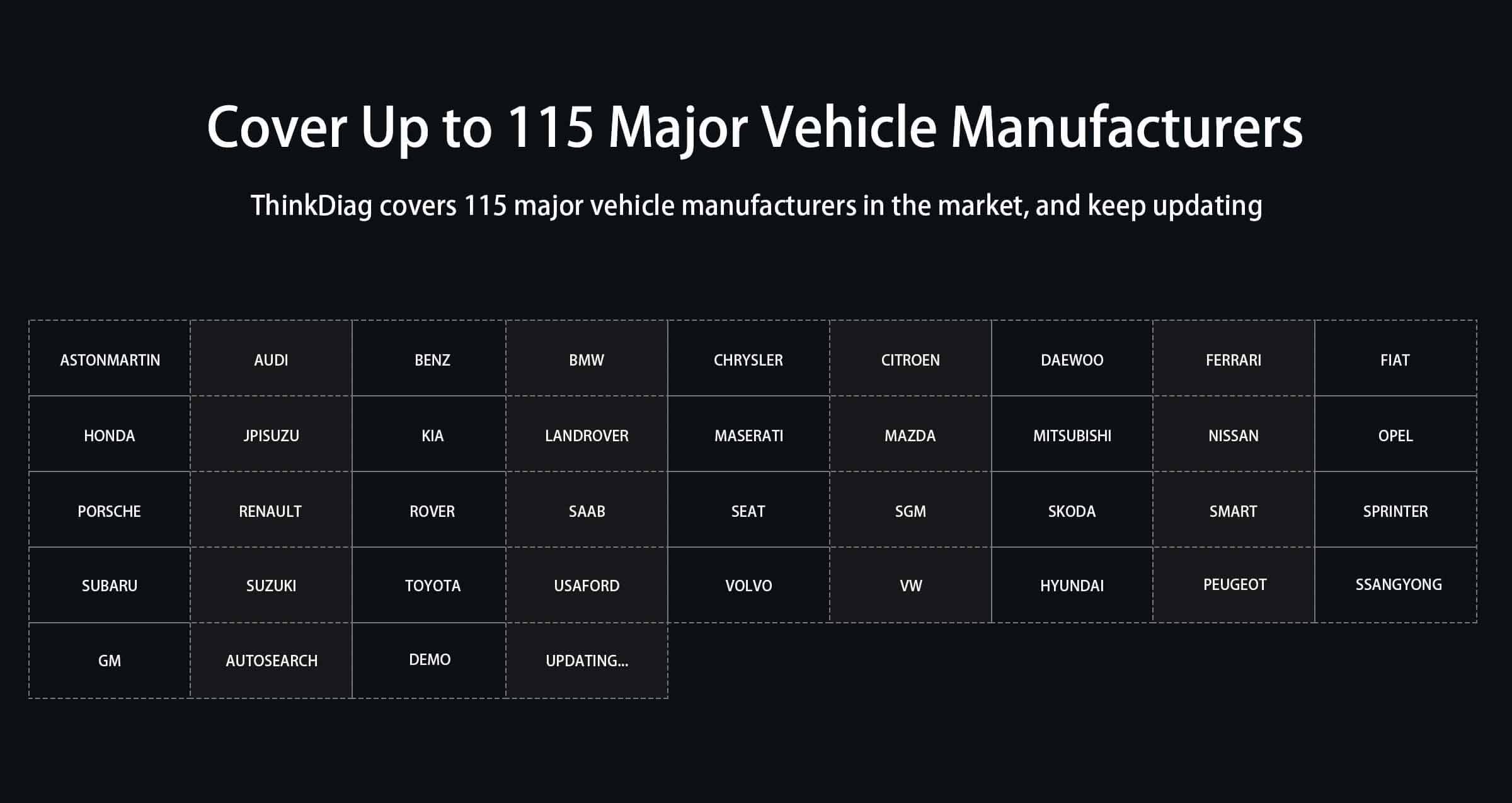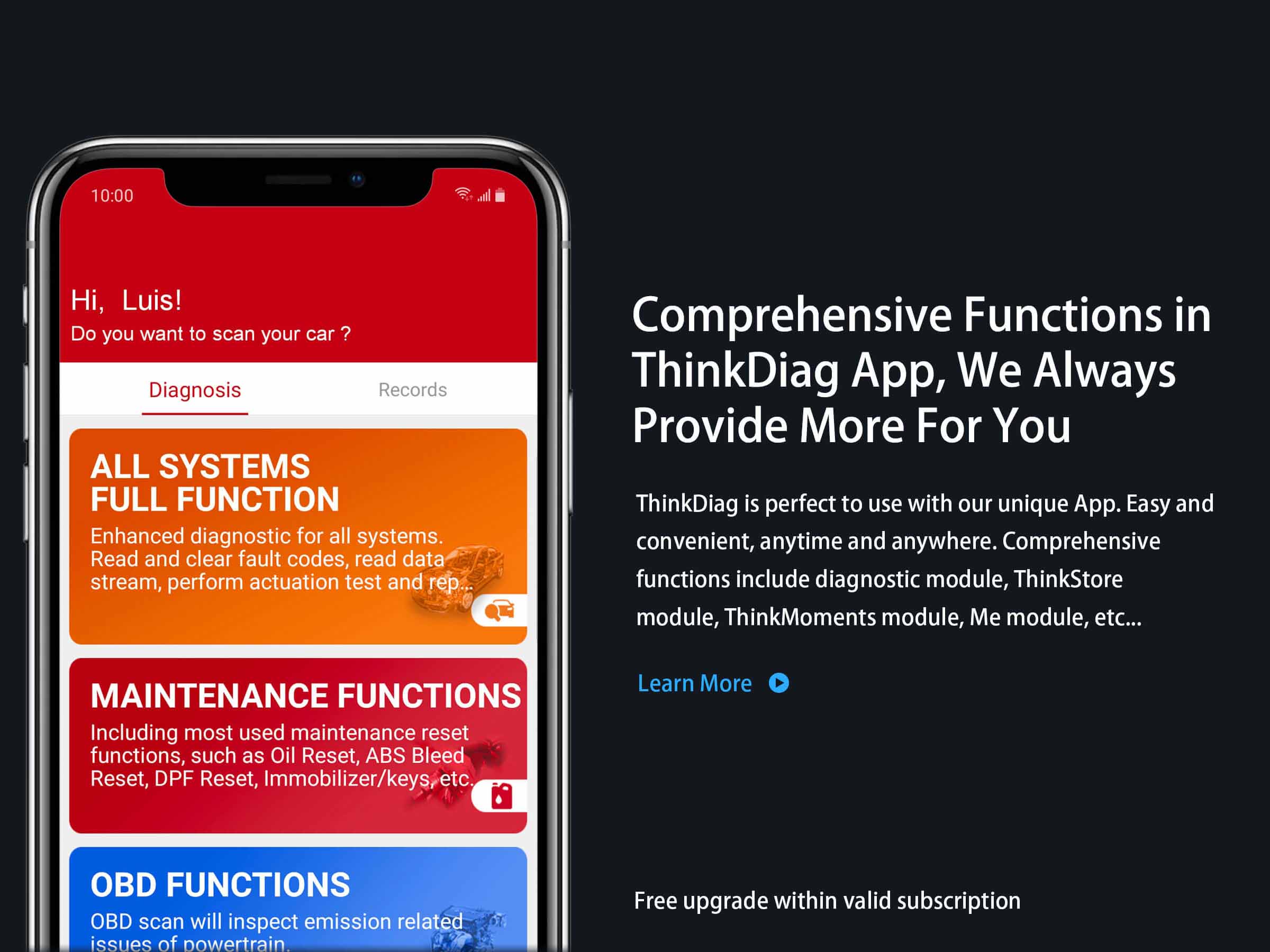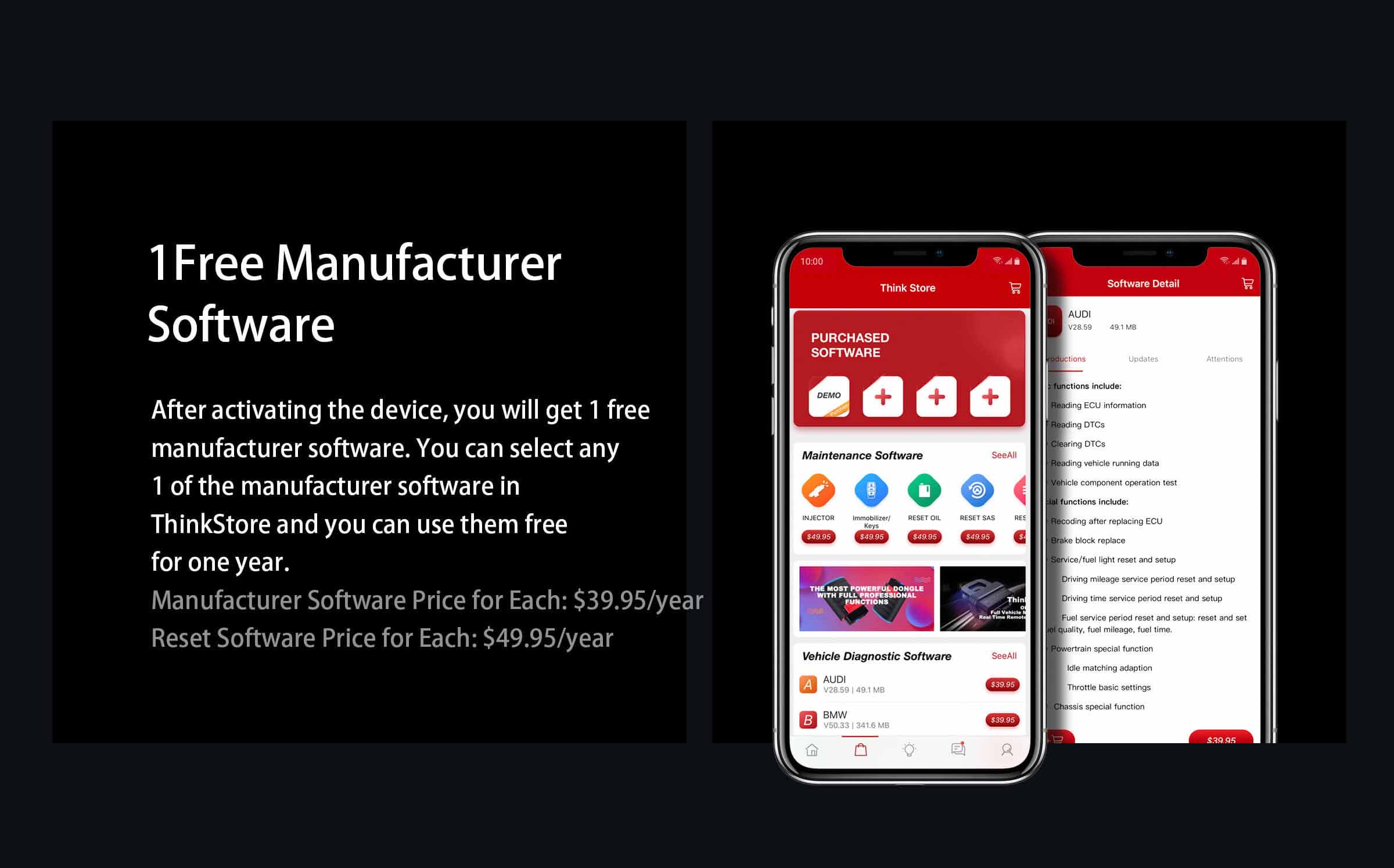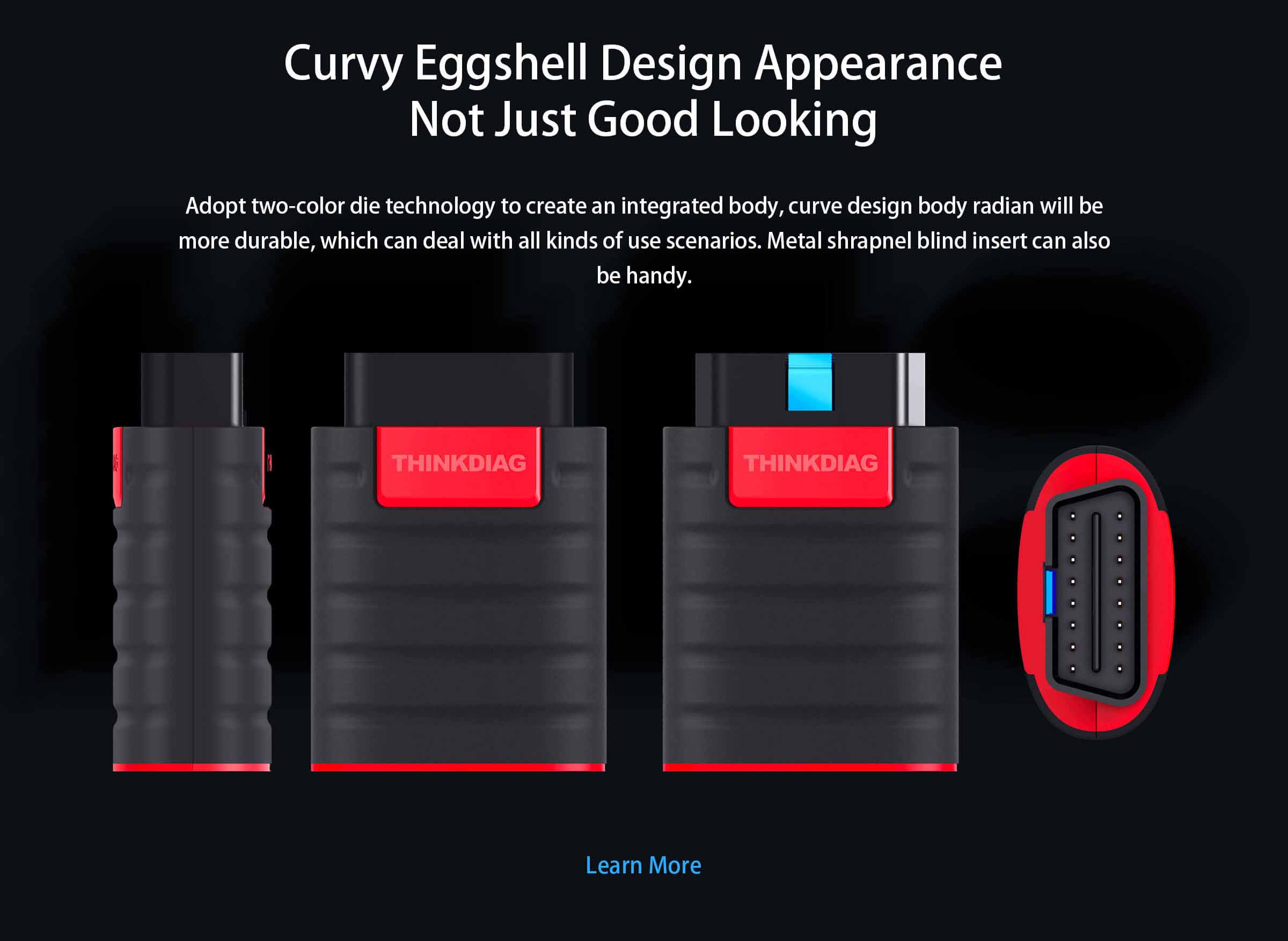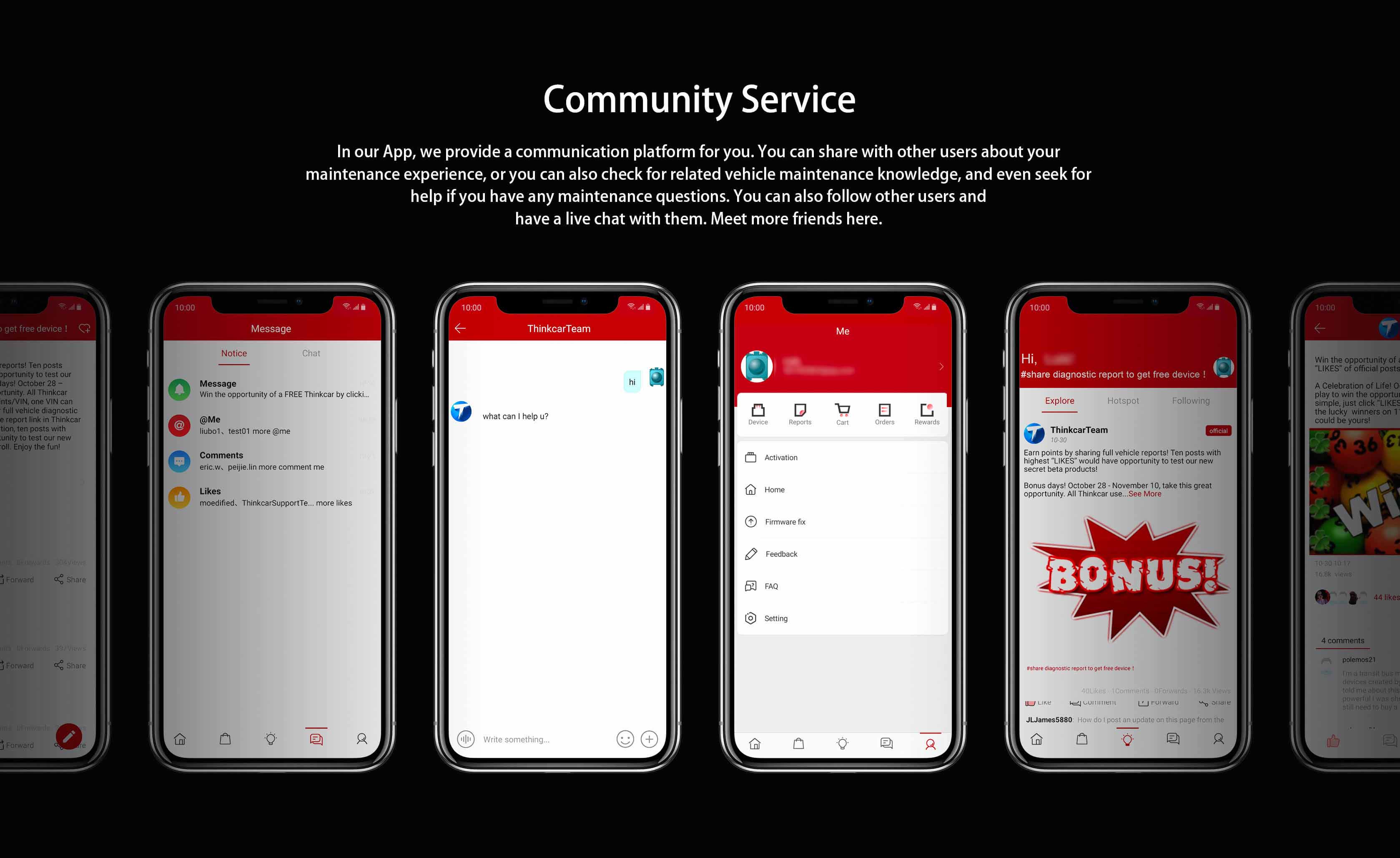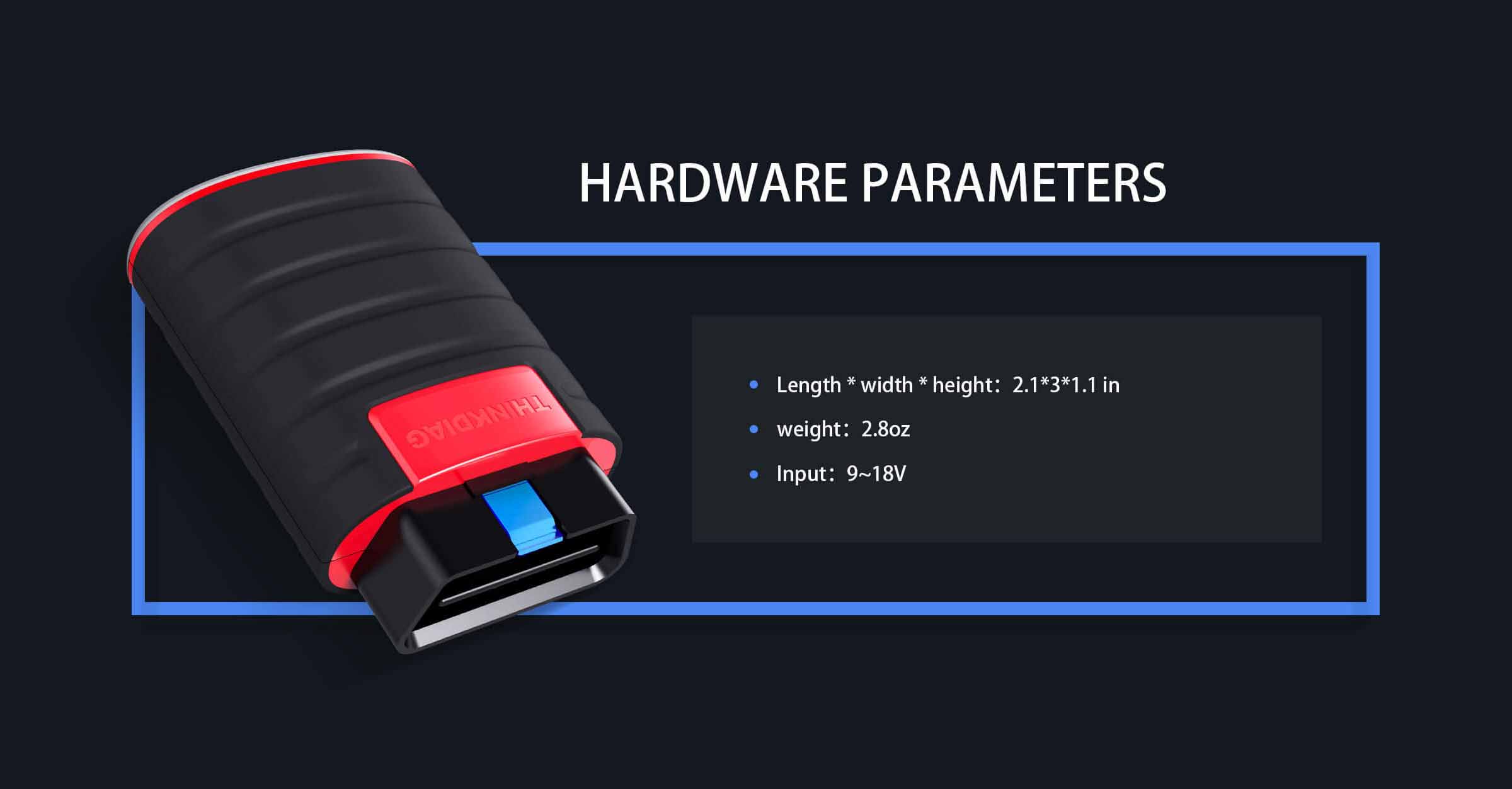 THINKDIAG INFO
Overview Of ThinkDiag
ThinkDiag Bluetooth Diagnostic Tool
Your Professional Car Techician Diagnostic Tool THINKDIAG is an automobile diagnostic tool with professional-grade functions. Simply plug the ThinkDiag dongle into your vehicle, connect it to your smartphone or tablet via Bluetooth, and your smartphone becomes a professional diagnostic tool with the simular functionality to much higher priced equipment with nearly OEM level diagnostics and it looks good to it has a Curvy, egg-shaped casing for improved durability while keeping the size small for great portability.Each ThinkDiag comes with one manufacturer or all manufacturer software subscription depending the package you buy but more subscriptions can be purchased from within the app.ThinkDiag will turn your smartphone or tablet into a profeshional level diagnostics tool at a fraction of the cost.
ThinkDiag Has had some amazing reviews and truley is a must have piece of kit that is we believe a tool that every mechanic or car owner should own.
ThinkDiag Standard vs ThinkDiag Pro?
Put simply the Thinkdiag Standard and the Thinkdiag Pro are the exact same hardware but there is a big difference because the Thinkdiag Standard comes with one free brand for 12 months where the Thinkdiag Pro comes with all brands and all resets included for 2 years. You can buy the standard device with one free brand and in the app pay a fee to upgrade it to the all brands and resets for 2 years but most people prefer to buy the device pre-activated because it is simpler and also there can be a big cost saving in doing it this way.
Where do we ship to ?
ThinkDiag.co.uk ships to most countries in the EU but we do not ship to countries outside the EU, the exact countries can be seen at checkout however we find that most of our order's for the ThinkDiag are from the UK followed by France , Germany , Spain , Netherlands , Finland and Bulgaria however we do have many orders from nearly all countries in the EU and we welcome business form all EU countries.
Are you authorised to sell ?
Yes we are. We are a EU based authorised supplier of ThinkCar Products and we only ever sell original genuine products and we never sell grey imports, All our products are send from the UK meaning that there will not be any customs import charges for EU based customers and normally EU to EU shipments are much faster than shipments from outside the EU to the EU.
Is my vehicle supported ?
On android devices the current brands are supported for enhansed code reading/clearing, actuation tests and special functions to a near OE level:
Abarth - Acura - Alpha Romeo - Aston Martin - Audi - Bently - BMW - BMW Hc - Bugatti - Buick (China) - Cadillac - Changan - Chevrolet - Chrysler - Citroen - Dacia - Daewoo - Daihitsu - DF Honda - DF Nissan - Dodge - Ferrari - Fiat - Fiat (Brazil) - Ford Europe - Ford Usa - GM - GM (Brazil) - GMSA - Gonow - GTR - GWM - GZ - Honda - Haima - Holden (Au) - Honda Hyundai - Infinity - Isuzu Jp - Isuzu Tl Jac - Jac Refine - Jaguar - Jeep - Jinlong - Karry - Kia - Lamborghini - Lancia - Land Rover - Lexus - Lincoln - Luxgen - Mahindra (India) - Maruti (India) - Maybach - Mazda - Mercedes - MG (SAIC) - Mini - Mitsubishi - Nissan - Opel - Perodua (Malaysia) - Peugeot - Porsche - Renault - Roewe (SAIC) - Rolls Royce - SAAB - Seat - SGM - Skoda - Smart - Sprinter - Ssangyong - Subaru - Suzuki - Tata (India) - Toyota - VAS - Vauxhall - Volkswagen - Volvo - ZX Auto - ZZ Nissan . Please always download the app and check the brands you want are supported to be 100% sure before purchasing.
We also support for standard OBD code reading and clearing codes for upto 115 car brands with many special functions avalible through the seperate reset software's.
The Thinkdiag supports more brands on the android system than the iOS system but we are constantly adding support for new vehicles on both android and iOS but for ease we always advertise the supported car brands assuming the user is using the android system.Please always contact us directly to check your vehicle support and coverage because different makes, models and even years have different coverage with regards to special functions and actuation tests.To check the brands that are avalible but not the exact functions you can download the app from the app store. Please always check with us via the site as we can not be hold responsable if you have not checked the coverage by using the contact form above or emailing us. It would not be fair to hold us accountable for descriptions or promises given by anyone but ourselves.
Thinkdiag Features
What are the features of ThinkDiag ?
- Advanced Full Vehicle Scan Performes scan on car for vehicle specific DTC does and supports functions such as reading or clearing dtc codes, performing actuation tests, resets and live data streams.
- Identify VIN Information Automatically meaning these is no need to input manually this will allow you to identify the vehicle and other relevent information.
– Portable, strong and advanced diagnostic tool that fits in your pocket unlike bulky diagnostic tools but not lacking the features.
– Enhanced tests for full electronic control system (examples ABS SAS SRS).
– Actuation tests allow you to test each system actuator for example lights, windows, wipers plus many more to help identify malfunction causes.
– Special functions Performes special actions to your car model or system of 115 car brands that are specific to each car brand for example turning of service light.
– Unrestricted Full OBDII and EOBD functions for full system scans to help you make informed car maintenance decisions and avoid spending unnecessary service fees.
– Live data stream reads your vehicle's live data and displays graphing to give you a visual comparison of multiple real-time data to better understand your car.
– Bidirectional functions enabled you tocommunicate with ECU to send and receive information within the ThinkDiag app on smartphone, including vehicle operation data.
- Downloadable Diagnostic Report this is a full report of the vehicle that you could share digitally or this could be printed for customer or used for own refference while doing repairs.
- Software Subscription for brands allows 12 months access to ALL diagnostic functions, including read/clear codes, live data streaming, actuation tests, and ALL maintenance functions of your vehicle.
- Maintenance Functions Software Each manufacturer software subscription comes with all 16 maintenance functions for car models from the manufacturer.
- Remote diagnostics function Meaning this is a good device if you are unable to resolve a problem yourself as Your mechanic can perform diagnostics remotely with ThinkDiag
Diagnostic Functions
Complete OBDII diagnostic & Maintenence functions:
Read Fault Code
Clear Fault Code
Freeze Frame
MIL Light
Full OBD Data Stream
DTC
I/M Readiness
O2 Sensor Test
Vehicle Information
Real-time Data Stream
EVAP System Test
On-board Monitoring
ABS Bleeding
Engine Oil Lamp Reset
Battery Matching
Sunroof Initialization
Throttle Adaptation
Tire Pressure Reset
DPF Regeneration
Brake Pad Reset
Steering Angle Reset
Immobolizer Matching
Injector Coding
Diagnostic Systems for ThinkDiag
Diagnostic Systems:
Accelerator Pedal Position Sensor
Active Engine Mounts
Active Noise Cancellation
Active Suspension
Adaptive Damping Control Module
Adaptive Front Lighting System
Advanced Driver Assistance Systems
Air Levelizer
Air Pressure Monitor
Alarm Siren
All Mode AWD/4WD
Anti-lock Braking System
Around View Monitor
Auto Back Door
Auto Drive Position
Auto Slide Door
Auto Slide Door
Automatic Speed Control Device
Blind Spot Warning
Body Control Module
Brakes
Charger/PD Module
Chassis Control
Cluster
Combined Charging System
Controller Area Network Gateway
Convertible Roof
Cruise Control System
Differential Lock
Direct Adaptive Steering Technology
Distance Control
Door Control Units
Driver Info / NissanConnect
Easy Hill Start / Park Brake
Electric / Hybrid Vehicle Systems
Electric Motor Condition Monitoring
Electrochromatic Mirror Compass
Electronic 4WD
Electronic Ignition Switch Control Unit
Electronic Power Steering
Electronically Adjustable Suspension
Engine
Four Wheel Active Steer
Front Camera Unit
Fuel Pump Control Module
Handbrake
Hands Free Module
Head Lamp Levelizer
Headlight Control Modules
Heating Ventilation Air-Conditioning High Voltage (HV) Battery
In Vehicle Monitoring System
Instrument Cluster
Intelligent Cruise Control
Intelligent Key
Intelligent Power Distribution Module
Lane Cameras
Laser/Radar
LED Headlamp Control Modules Intelligent Battery Sensor
Light & Rain Sensor
Motor Assist
Motor Control
Multi A/V
Multi Display
Nissan Anti-Theft System
Occupant Classification Unit
Occupant Detection
Overhead Control Panel Unit
Parking Assist
Passenger Seat Control Unit
PMAS
Positive Temp Coefficient Heater
Precrash Seatbelt
Radar Sensor
Radio
Rearview Camera
S/Blind Camera
Shift
Side Radar Right and Left
Siren Control Unit
Smart Entrance
Sonar
Steering Column Cont Module
Steering Wheel Switch Pad
Sub Meter
Supplemental Inflatable Restraint System
Telematics
Total Illumination Control Unit
Traction Control System
Trailer Recognition Control Unit
Transmission Control Module
Universal Garage Door Opener
Upper Control Panel Cont. Unit
Vehicle Data Transmitter
Vehicle Sound for Pedestrians
What can THINKDIAG do
A: Thinkdiag is an OBD tool that uses Bluetooth to connect with a smartphone or tablet. It is an economical and portable diagnostic tool for car enthusiasts and mechanics.
Thinkdiag is composed of the Thinkdiag Dongle and Thinkdiag App, which can install client soft-ware and diagnostic software, to carry out vehicle fault diagnostics. Thinkdiag connects to the vehicle's OBD port and communicates wireless with the smart phone or tablet via Bluetooth.
Thinkdiag can be compared to any professional and expensive diagnostic equipment. It can scan the full systems which including reading version information, reading fault code, clearing fault code, reading data flow, actuation test, ABS bleeding, etc.
Q: What are some special features of Thinkdiag?
A: Thinkdiag is not a simple basic OBD scan tool, it's a professional diagnostic dongle. For the vehicle diagnosis, it can do almost OE level and bidirectional functions. For maintenance reset-ting, it includes but not limited to Maintenance Light Reset, DPF Regeneration, Brake Pad reset, Steering Angle Reset, Battery Matching, ABS reset, Throttle Matching, Tire Pressure reset, An-ti-Theft Matching and more!
Q:Who is Thinkdiag designed for?
A: Thinkdiag aims to provide affordable, high-performance products for mechanics, garage techni-cians, and individual owners who enjoy working with vehicles.
Some scenarios are:
1. If you do door-to-door service or road rescue, whether it be maintenance or repair, a porta-ble Thinkdiag is the best choice.
2. For garages, instead of using an expensive diagnostic tool, Thinkdiag can be considered as it is so powerful and covering all diagnostic functions.
3. For DIY users, when basic OBD equipment cannot meet your high demands, the powerful 'Thinkdiag' will be able to diagnose more and make maintenance easy.
4. The Lightweight and compact design make the Thinkdiag the ideal tool for people who have certain maintenance skills and, to carry affordable Thinkdiag diagnostic equipment.
Setting up your THINKDIAG device for the First-time
1. Download The ThinkDiag App:
Search "ThinkDiag" in App Store or Google Play. ThinkDiag App is FREE to download and if you need more than your 1 free brand more can be purchased in the app
2. Sign In or Sign Up:
If you already have a Thinkdiag account, please sign in with your details; If you do not have one, please sign up for an account. Please note that one Thinkdiag account is common for all products from thinkdiag Tech company meaning you will not need multiple accounts for different products.
How to Sign Up for an Account:
Open the ThinkDiag App, click on "Sign Up". Input your username, email, and verification code (which will be sent to the email you input), then create your own password. Click on "Sign Up" and finish.
3. Activate a ThinkDiag Device:
After the registration, there will be a notification of "Activation Code". Click on "OK" to open the activation page, you need to input the serial number and a 8-digit activation code of your ThinkDiag device.
4. Download Diagnostics Software:
After the activation, go to "ThinkStore" to download diagnostics software. Each ThinkDiag de-vice comes with 2 FREE diagnostics software for one year. Please select the software based on your vehicles, and download the corresponding software.
5. Insert the ThinkDiag Device into OBDII port in Your Vehicle:
Usually, the OBDII port is located under the dashboard, above the pedal on the driver's side. Here are the 5 common positions of OBDII port (as shown in the figure below). Insert the ThinkDiag device, there will be a green light which indicates the device is powered on.
6. Bluetooth Connection:
Open the ThinkDiag App, it will automatically search to activated device and connect via Bluetooth in the App.
7. Start to Use Your ThinkDiag Device:
After the bluetooth connection, you can use all the functions of your ThinkDiag device such as: All Systems Diagnostics, Maintenance&Service Functions, OBD II Diagnostics, thinkdiag Re-mote Diagnostics.
Questions about the THINKDIAG Hardware
Q: How Much Does The ThinkDiag Hardware Cost?
A: The cost of the thinkdiag is only £75.99
Q: Do you offer wholesale prices on the thinkdiag hardware?
A: Yes we do offer wholesale pricing to companies located in the UK and Europe but there are minimum order quantities for more information contact us.
Q: What's the different lights of ThinkDiag indicate?
A: There are four different lights of ThinkDiag:
Continuous Green Light: The ThinkDiag device is powered on.
Continuous Blue Light: The ThinkDiag Bluetooth is connected.
Flashing Blue Light: The ThinkDiag Bluetooth is in communication.
Continuous Red Light: The ThinkDiag Firmware upgrade successful or firmware upgrade failed.
Q: Does my Thinkdiag device need to be charged? How about the power consumption, is it safe?
A: Thinkdiag is powered directly from the vehicles OBD port and does not require any charging or other power source. The power consumption of the device is very minimal and it's very safe.
Q: Does Thinkdiag work with diesel trucks?
A: Yes. Only for light duty it will not work on heavy duty trucks.
Q: Will Thinkdiag interfere with other devices in my car?
A: No, our Bluetooth module has been thoroughly tested to ensure that it does not interfere with other Bluetooth devices.
Q: Does my Thinkdiag device use my car\'s Bluetooth?
A: No, it does not.It has it/s own built in bluetooth moduel and is completly independent from the vehicles bluetooth
Questions about the THINKDIAG Software
Q: Why do I need to download the diagnostics software after download the App?
A: Due to a variety of vehicle manufacturers on the market, different vehicle manufacturers re-quire corresponding diagnostics software. Therefore, ThinkDiag will recognize the vehicle manufacturer first while diagnosing, then download the corresponding diagnostics software to work.
Q: What is Thinkdiag's vehicle diagnostic software policy and the ThinkStore?
A: Along with the Thinkdiag hardware, two vehicle diagnostic softwares are free. The first time you use this tool, it will ask you to select the vehicle diagnostic software you want to download. (Notice: once a diagnostic software is chosen, it cannot be changed. )
ThinkStore has all the all the vehicle diagnostic softwares that Thinkdiag can use, covering more than 95% of car models in the market.
The diagnostic software is valid for one year and require renewal after expiration.
After you download the two free vehicle diagnostic softwares, you need to purchase if you want to download more softwares.
The procedure for purchasing additional diagnostic software is as followed:
Activate device → Open ThinkStore in the Thinkdiag App → Select the software → Select buy now/add to shopping cart → Complete payment → Download diagnostic software → Start the diagnosis.
Q: Which vehicle can ThinkDiag diagnose?
A: ThinkDiag supports 37 vehicle manufactures, diagnoses more than 110 vehicle brands. The diagnostics software are available in ThinkStore in the ThinkDiag App.
Note: The sizes of different manufactures' diagnostics software are different. Some software are large which requires a good network environment to download.
Q: What are the special functions of ThinkDiag?
A: ThinkDiag supports 16 special functions, including: AFS RESET、Elec.Throttle RLRN、GEAR LEARN、Immobilizer/Keys、INJECTOR、RESET BRAKE、RESET OIL、RESET SAS、RESETBLEED、RESETBMS、RESETBOX、RESETDPF、RESETEGR、RESETTPMS、SUNROOR、RESET SUS. According to different vehicle manufacturers' di-agnostics software, there will be more special functions.
Q: Does Thinkdiag support multiple languages?
A: Thinkdiag App supports the following languages: English, Japanese, French, Spanish, Portu-guese,Italian, German. Thinkdiag diagnostic software supports the following languages: English, Chinese, Japanese, Korean, French, Spanish, Portuguese, Italian, Russian, German, Polish, Romanian, Dutch, Arabic, Czech, Danish, Greek, Persian, Finnish, Hungarian, Swedish, Turk-ish, Serbian, and Croatian.
Q: What smartphones can download ThinkDiag App?
A: ThinkDiag App supports smartphones with Android 5.0 and above, IOS 9.0 and above. It cannot be used on PC with WINDOWS system.
Q: Does ThinkDiag need firmware upgrade?
A: Yes, it does. When the ThinkDiag device is connected to the bluetooth on your smartphone, it will automatically check if the firmware of your device is the lasting version. If it's not, it will upgrade automatically.
Q: Can the same App account bind with multiple devices?
A: Yes, you can set it in the App.