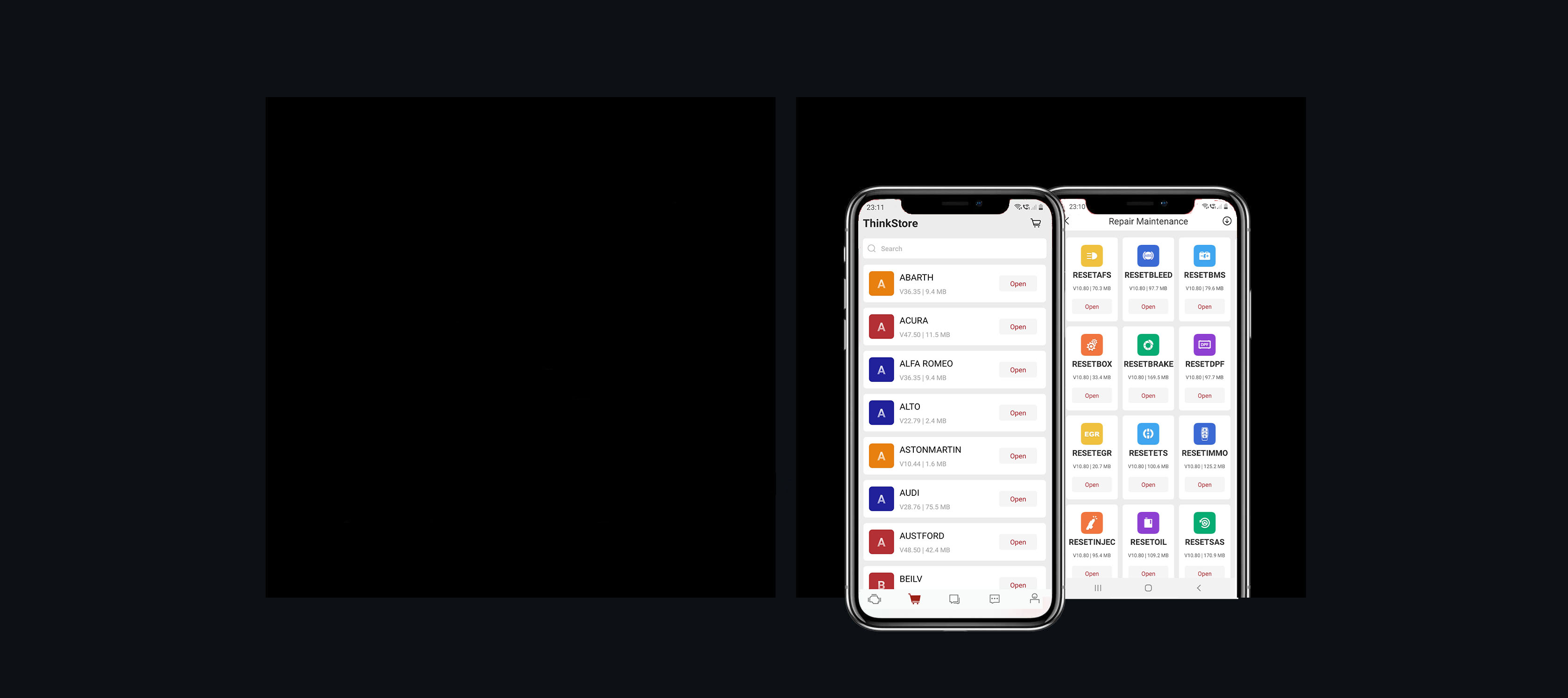 ThinkDiag Pro Vs Thinkdiag One Brand
The Thinkdiag Pro And The ThinkDiag Standard are the exact same hardware the difference is with the included software. The Pro Includes ALL manufacturer software and ALL reset maintenance software for TWO years, but the Standard version only includes one software of your choice for one year.

We remove the limits by only selling the ThinkDiag Pro so you will get access to all the 115 passenger car brands (Including Tesla) and the 15 maintenance functions with TWO years software updates.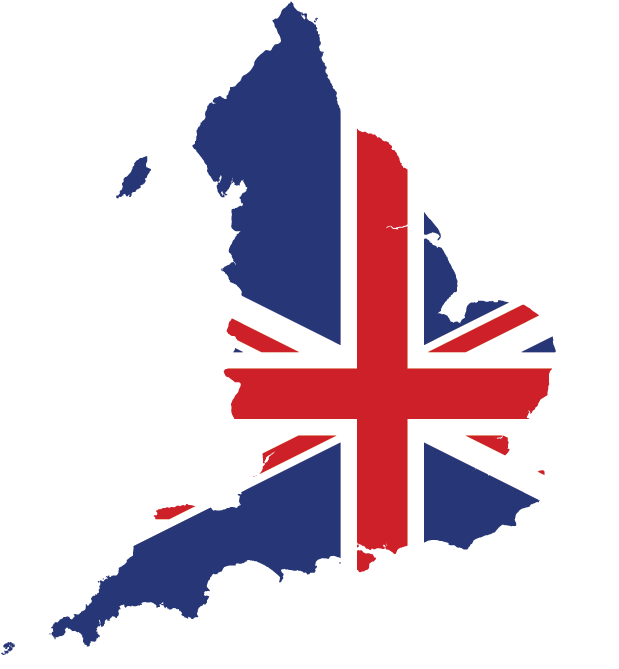 We are located in the United Kingdom and are proud to be the largest European based distributor of the THINKDIAG. As a result of us being UK based, we work similar hours to our customers. Enabling fast dispatch of orders and quick responses to emails giving our customers a huge advantage.

The THINKDIAG is an automotive diagnostic tool with professional-grade functions that is manufactured by Launch, it is both powerful and affordable. The THINKDIAG turns your android smartphone into a diagnostic tool that is comparable only to garage grade OBD2 diagnostic tools but at a fraction of the cost.

The THINKDIAG is a complete game changer as it enables you to perform an abundance of professional-grade diagnostic functions on your vehicle through your cars OBD2 port, from just your Android or iOS smartphone though a bluetooth connection. The impressive functionality of the THINKDIAG includes; Reading and clearing enhanced manufacturer fault codes, special functions, maintenance functions, actuation tests and live data graphing. We unlock the full protential of the device as the version purchased from ourself has all the car brands and maintenance software included so you will not be restricting youself into using the device on just one car make.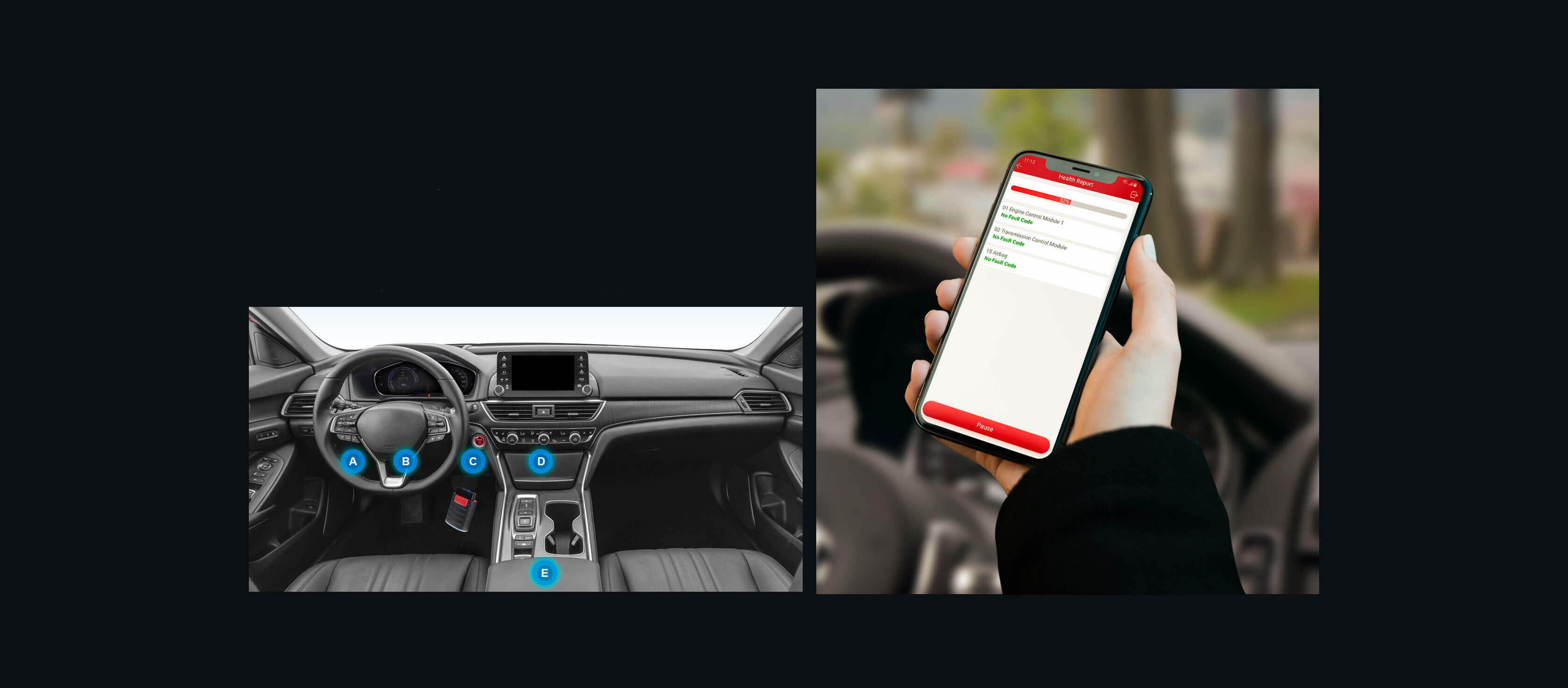 Compact Size of the Device for Easy Connection
Plug your THINKDIAG into your vehicle's OBD port, open the THINKDIAG+ app on your smartphone. Activate the device and start using.
OBD port positions may be differ between different vehicles, please check your specific vehicle for the positioning of your OBD port.
Full Diagnostic Functions Simple To Use Without Additional Learning
Plug the Thinkdiag into your vehicle's OBD port, open the app on your smartphone. Activate the device and start using.
Select All Systems Full Functions Diagnosis.
Read vehicle's information automatically, or select the brand from the many options available within the app.
Start communicating with ECU, scanning fault codes.
Select function to use depends on your needs (special functions, actuation tests, clear codes, etc.)
Generate a diagnostic report.
As a professional car diagnostic tool, the THINKDIAG supports full system module scan enabling the reading and clearing of fault codes from modules that basic code readers simply do not have the technical ability to communicate with due to the fact that they are limited by the emission based generic OBDII standard functions. The full system scan with enhanced code reading will help you avoid unnecessary or expensive repair costs by enabling you to detect faults within your vehicle systems quickly and efficiently assisting you to take effective measures to rectify the issue and limit potential damage. The professional diagnostic report has substantial details of the faults under the different modules to help expedite the diagnosis and repair of the vehicle, these reports can be reverted back to in the future enabling you to compare the reports from before and after the repair once the fault codes have been cleared.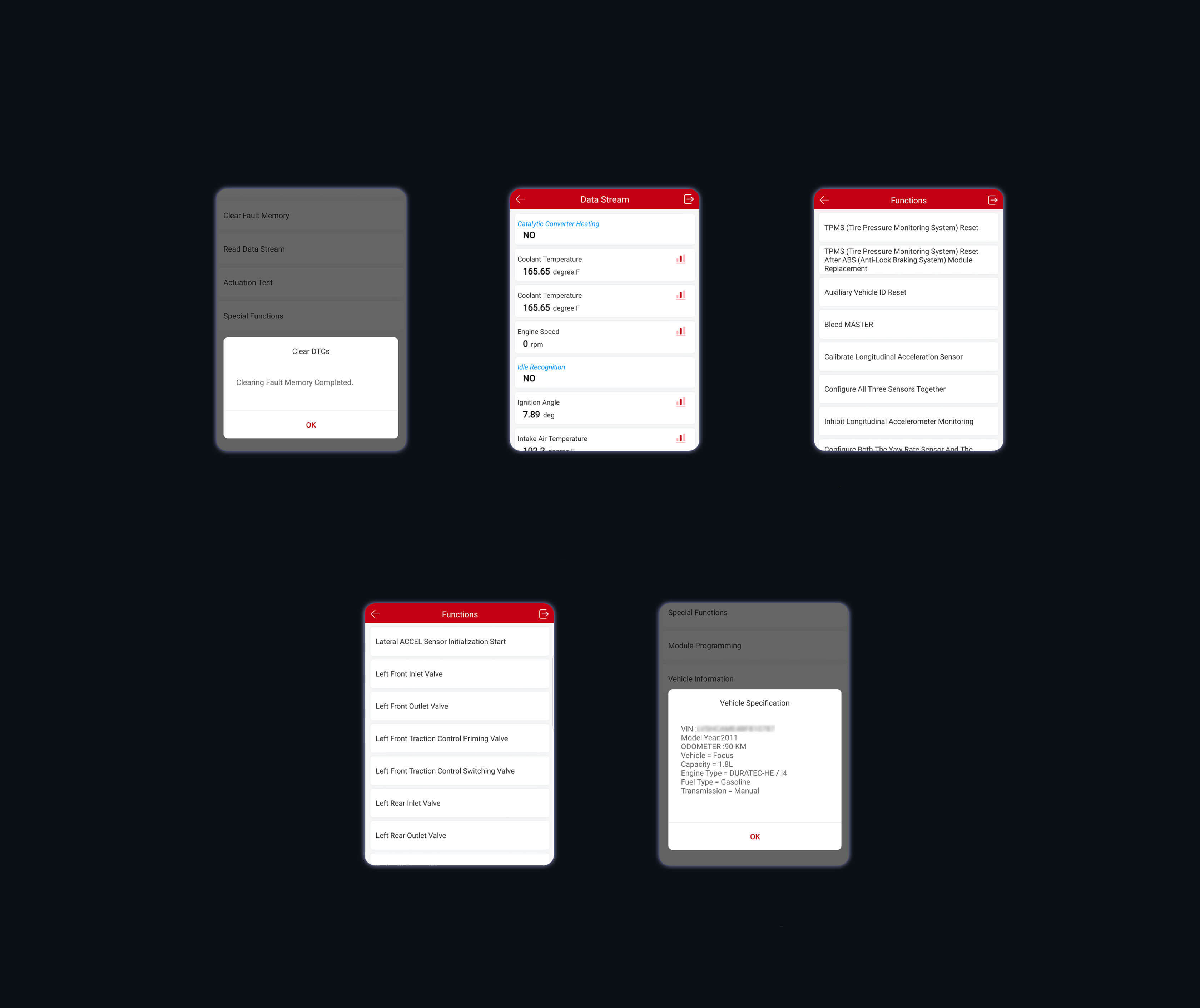 Powerful Diagnostic Functions
THINKDIAG is a professional level diagnostic tool with OE level functions
Read/Clear Codes
Support Reading system fault codes and clear system faults to.
Live Data Stream
Read vehicles live data and present by graph. Optional combination of multiple data.
Special Functions
Dependant on different vehicles, we offer special functions such as reduction of steering angle maintenance light turn to zero.
Actuation Tests
Use your smartphone in the app to control vehicle doors and windows... Test each system actuator is normal
Communicating with ECU
Communicating with the ECU to get information within the App on your smartphone, be aware of vehicle operation tests.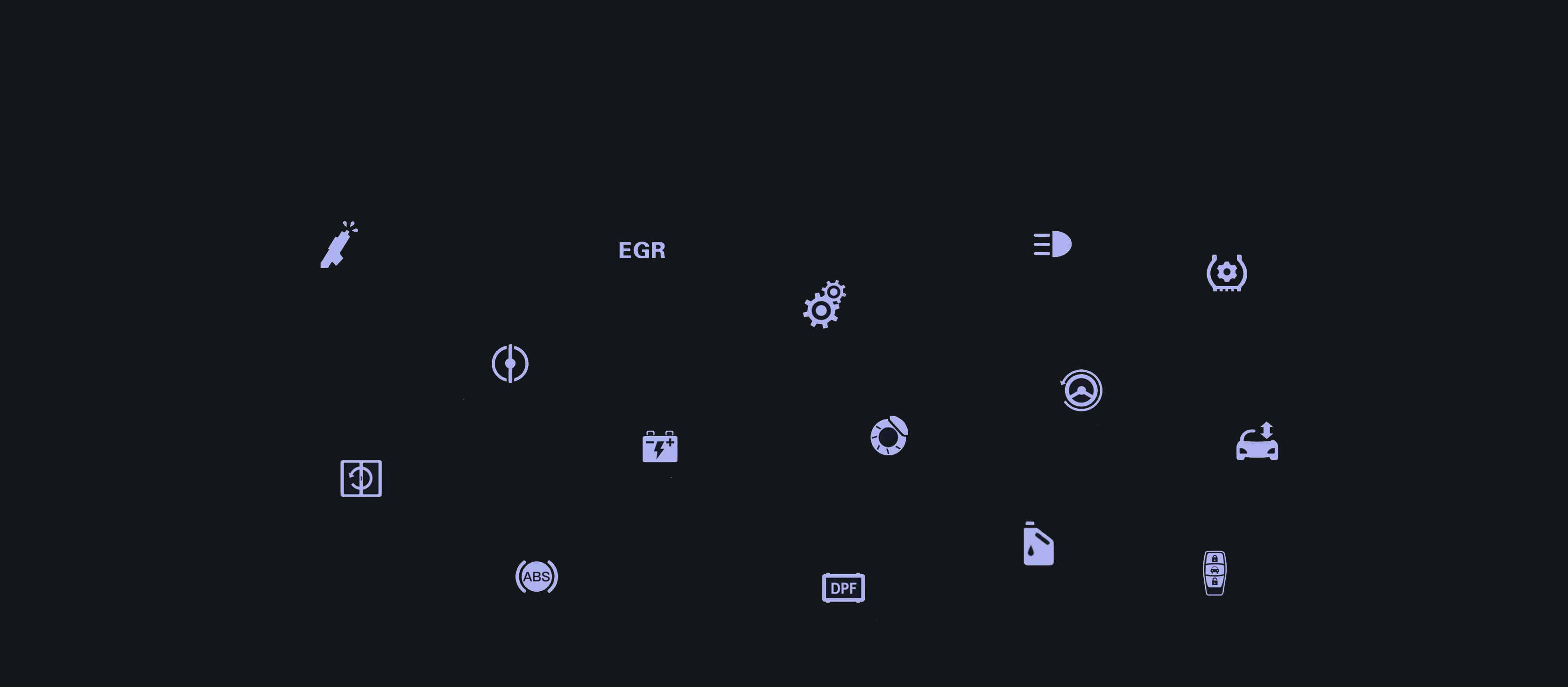 MAINTENENCE FUNCTIONS
15 Maintenance functions to meet the vehicle maintenance and service requirements
INJECTOR
SUNROOF
RESET BLEED
RESET BMS
ELEC THROTTLE
RESET EGR
RESET BOX
RESET BRAKE
RESET DPF
RESET AFS
RESET SAS
RESET OIL
RESET TPMS
RESET SUS
IMMO/KEYS
The THINKDIAG has 15 maintenance functions with the sole intention being to enable convenience by saving time, so logically they are based on the most thought after and desired special functions. Maintenance functions described in a simplistic way are a shortcut that avoids the need of having to access the car brand software to then have to navigate to the correct module to view the special functions. Depending on the make model and year of the vehicle there can be hundreds of special functions spread across the relevant modules in the vehicle and although it is inevitable that many will need to accessed in this way it is beneficial to have to common special functions in the form of quick to access resets.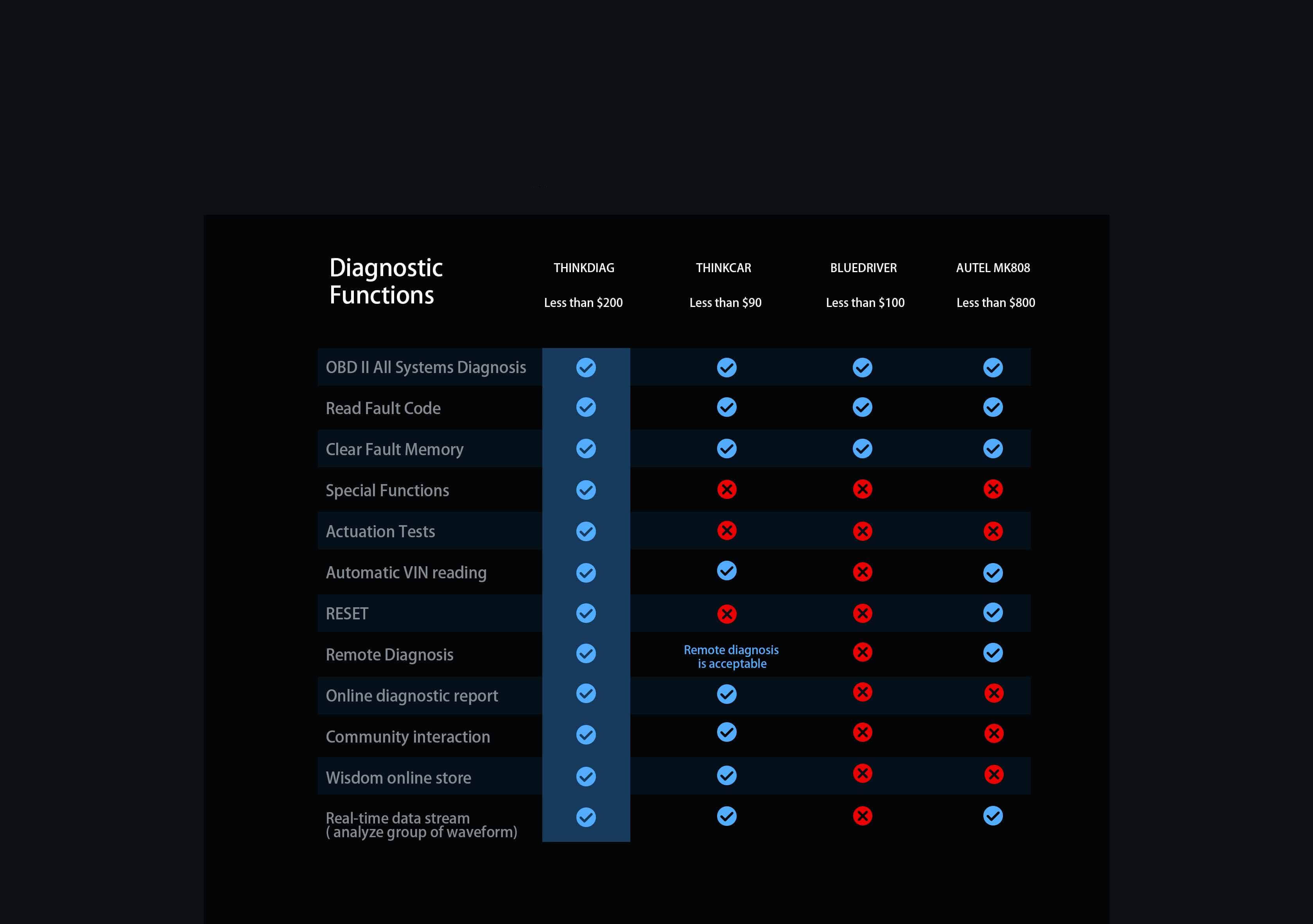 Powerful and Competitive Functions
The same comprehensive functions as tools that can cost thousands, but at a much lower price.
The ThinkDiag OBDII adapter has received many positive reviews we're often contacted by customers with postive feedback regarding how the ThinkDiag performs when compared to their other diagnostic tools that they either own or have used before. The reasons for the positive feedback can vary from customer to customer but the we are often told that the Thinkdiag scanner is better than what they thought it would be with the feedback normally praising the special functions, maintenance functions or the device being able to read and clear codes that there other tools can't. It always puts a smile on our face when we receive emails with feedback of our product exceeding our customers expectations.

We are never surprised by the positive comments we receive because we believe that the ThinkDiag speaks for itself, it is not to be underestimated, it's an incredible device. We believe all Car owners and mechanics alike should all consider buying the ThinkCar ThinkDiag as it is a vital piece of kit to keep in your glove box or toolbox. Previously, your only option was to either buy an expensive device or a cheap fault code reader that did not have all the relevant functionalities, especially on the newer models of car. Before the Thinkdiag, the ThinkCar 1S device was released but this did not have bi-directional control massivly limiting the device, preventing it from performing actuation tests and many special functions. Often, you'd still need to rely on garages with expensive diagnostic equipment to find out what is wrong with your car. Think Car learnt from this and they learnt well, the release of Thinkdiag changed everything giving customers the bi-directional control they required, the maintenance functions and the special functions. You can get a professional device that is bi-directional that also uses the Launch Software at an affordable price.
Cover's Up To 115 Major Vehicle Manufacturers
ThinkDiag Covers up to 115 vehicle manufacturers in the market, and keeps updating adding new brands in all the time.
The ThinkDiag enables near OE level diagnostics including Code Reading/Clearing, Actuation Tests, Live Data and Special Functions. The available special functions vary depending on the make model and year of your vehicle, they also vary between iOS and Android as Android is always updated first. For the most up to date software, we recommend using the device with an Android smartphone. The Thinkcar team in partnership with launch keep improving the makes of car that the thinkcar obd ii devices support, they do this via releasing updates in the app. The updates also increase the car brands different models that are covered and improve the already supported models by adding more functionality or newer years of manufacturer. Coverage does deppend on make model and year, not every function is possible to work on every vehicle so please always contact us to double check.
Thinkdiag Features
-Advanced Full Vehicle Scan Performs scans on your car for vehicle-specific DTC and supports functions such as reading or clearing dtc codes, performing actuation tests, resets and live data streams.

- Identify VIN Information automatically meaning there is no need to input your VIN manually. This will allow you to identify the vehicle and other relevant information saving you time.

– Portable, strong and advanced diagnostic tool that fits in your pocket unlike bulky diagnostic tools, but not lacking the features. Thinkdiag is a powerful tool offering advanced features and functions which until recently were only available in tools costing thousands.

– Enhanced tests for full electronic control system (examples ABS SAS SRS).

– Actuation tests allow you to test each system actuator for example lights, windows, wipers plus many more to help identify malfunction causes.

– Special functions Performs special actions to your car model or system of 115 car brands that are specific to each car brand. For example, DPF Regeneration and Steering Angle Sensor Reset.

– Unrestricted Full OBDII and EOBD functions for full system scans. Helping you to make informed car maintenance decisions and avoid spending unnecessary service fees.

– Live data stream reads your vehicle's live data and displays graphing. Which gives you a visual comparison of multiple real-time data to better understand your car.

– Bidirectional functions enables you to communicate with ECU to send and receive information within the ThinkDiag app on your smartphone, including vehicle operation data.

- Downloadable Diagnostic Report is a full report of the vehicle that you could share digitally or it could be printed for your customer. It can also be used for your own reference whilst doing repairs.

- Software Subscriptions. The all brand Thinkdiag Pro offers you 2 years full access to all brands and resets across the entire app.

- Maintenance Functions Software. There is a vast array of maintenance software which you will automatically have full access too. Having the Thinkdiag Pro means, you will have full access to all the maintenance software and brand software.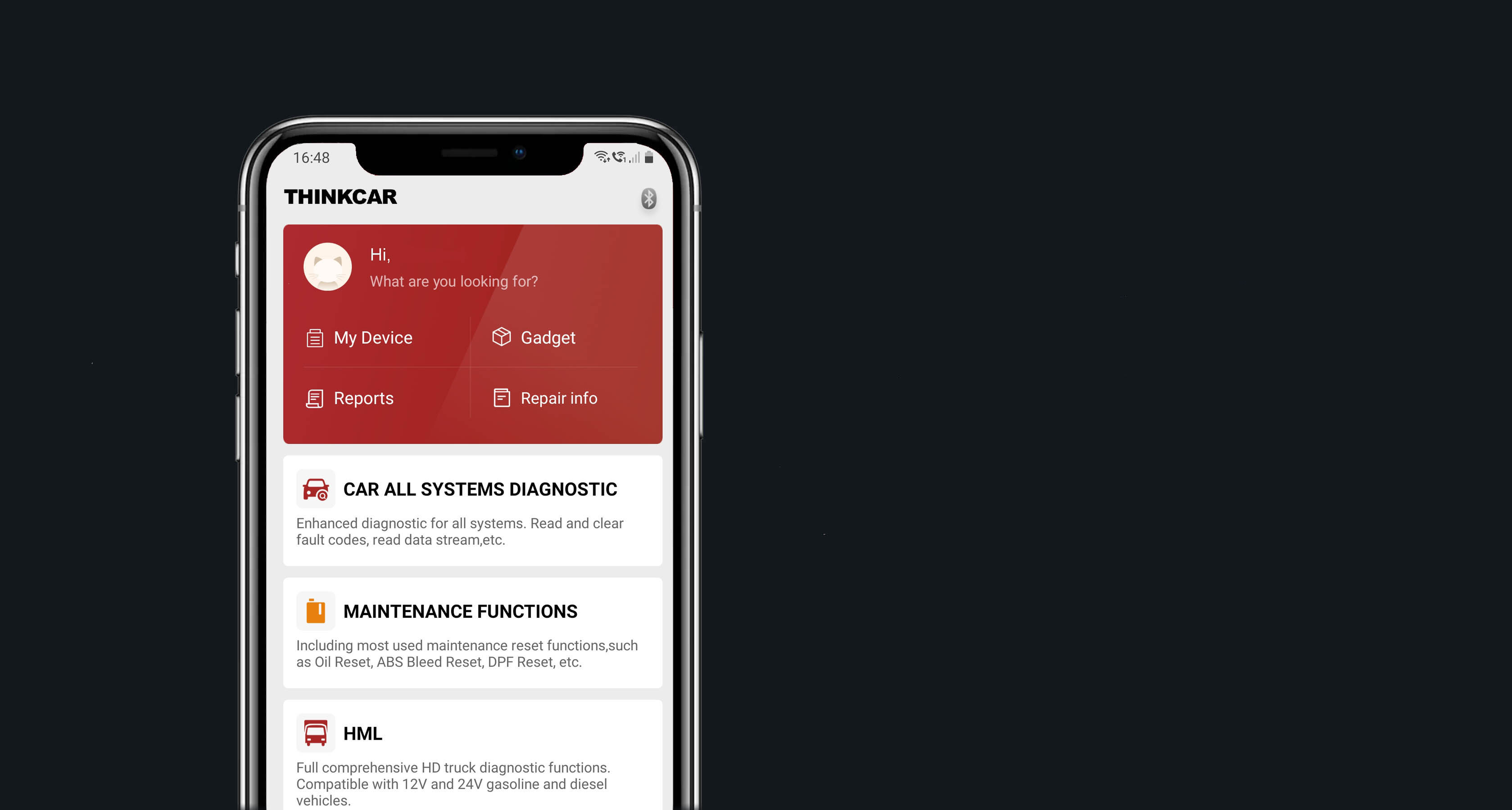 Comprehensive Functions In The ThinkDiag App
ThinkDiag is perfect to use with our unique and easy to use app. The app provides community support where you can discuss your car faults with others to help each other find quick solutions.

Efficient and convenient Anytime, anywhere diagnostic access in your pocket. Comprehensive functions include Full System Diagnostics, On-Board Diagnostics and Maintenence Functions.

You have the choice within the app to find your car via the Auto-Vin scan tool, or you can choose your brand via all systems. For convenience, we also have a separate section specifically for your maintenance functions.

All you need is your phone, the thinkdiag and a internet connection to be able to diagnose your vehicle faults. You can even review your previous diagnostic reports at a later date via the app.
Curvey Eggshell Design Appearance Not Just Good Looking
Adopt two colour die technology to crease an intergrated body, curve design dody radian will be more durable, which can deal with all kinds of use scenarios. Metal Shrapnel blind insert can also be handy.


Thinkdiag is one of the trading names of Premium Diagnostics Ltd with the Registered office address - Premium Diagnostics LTD, 86-90, Paul Street, London, England, United Kingdom, EC2A 4NE
Customer Services Email:

Sales@thinkdiag.co.uk

Emma (Director) Email:

Emma@thinkdiag.co.uk