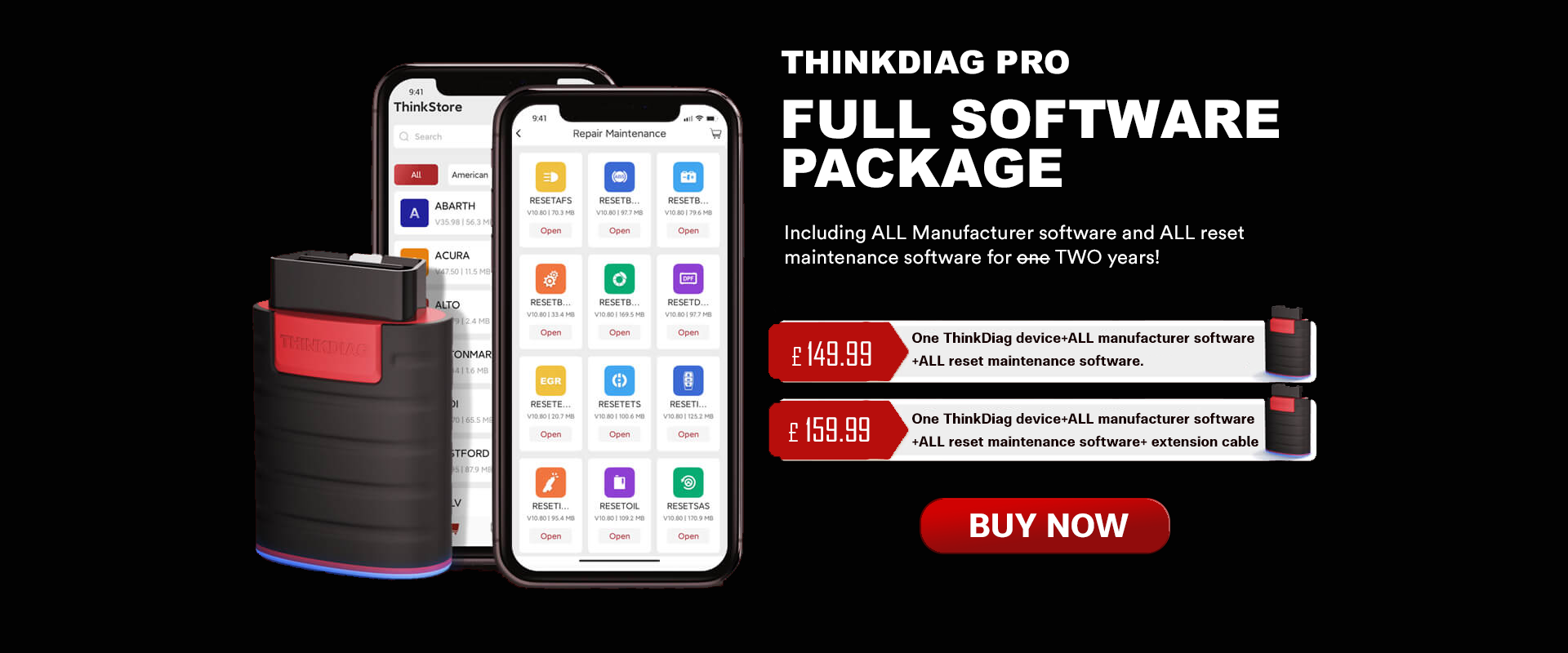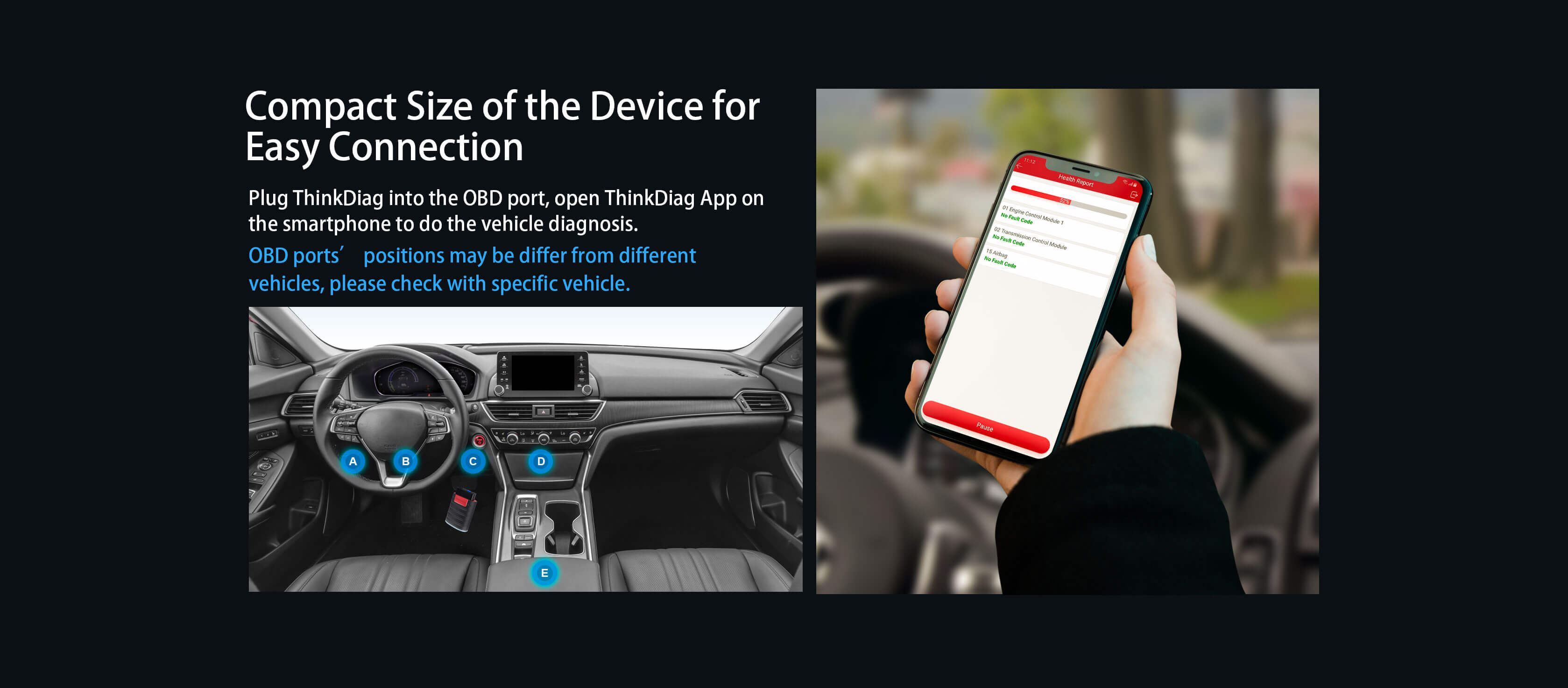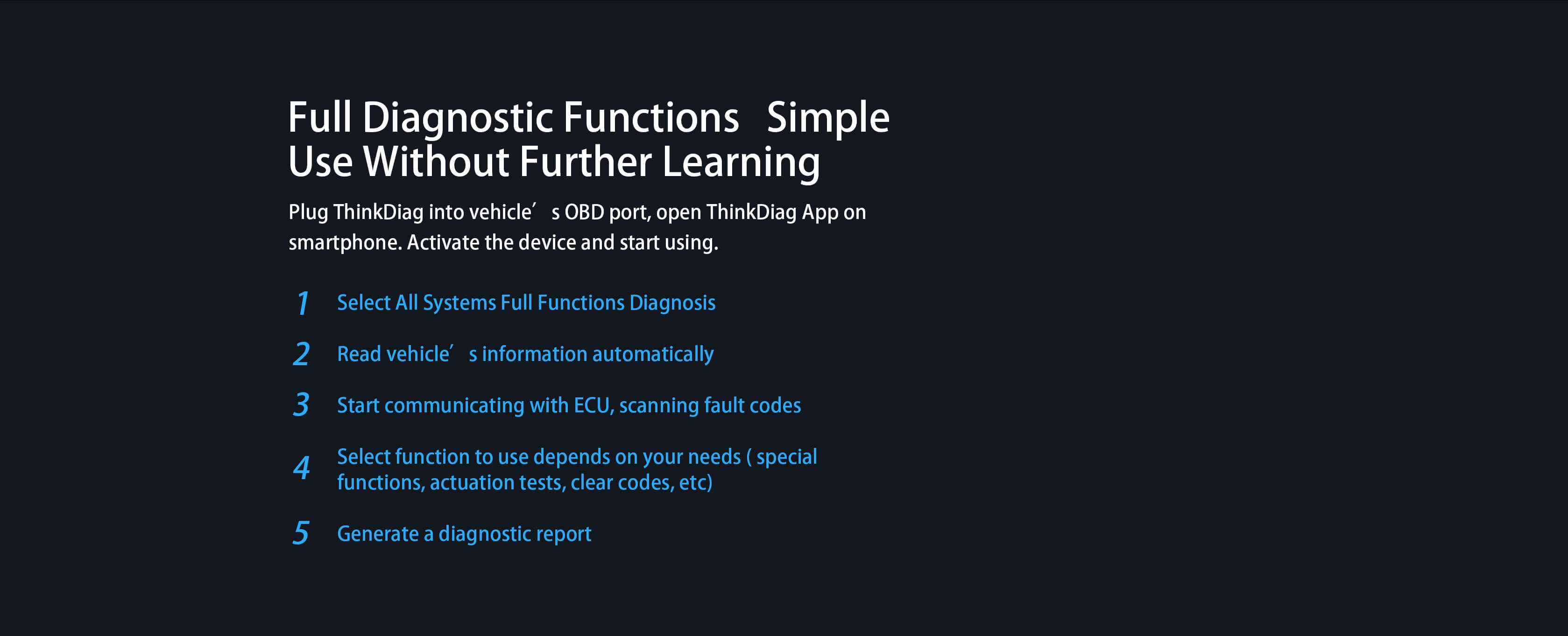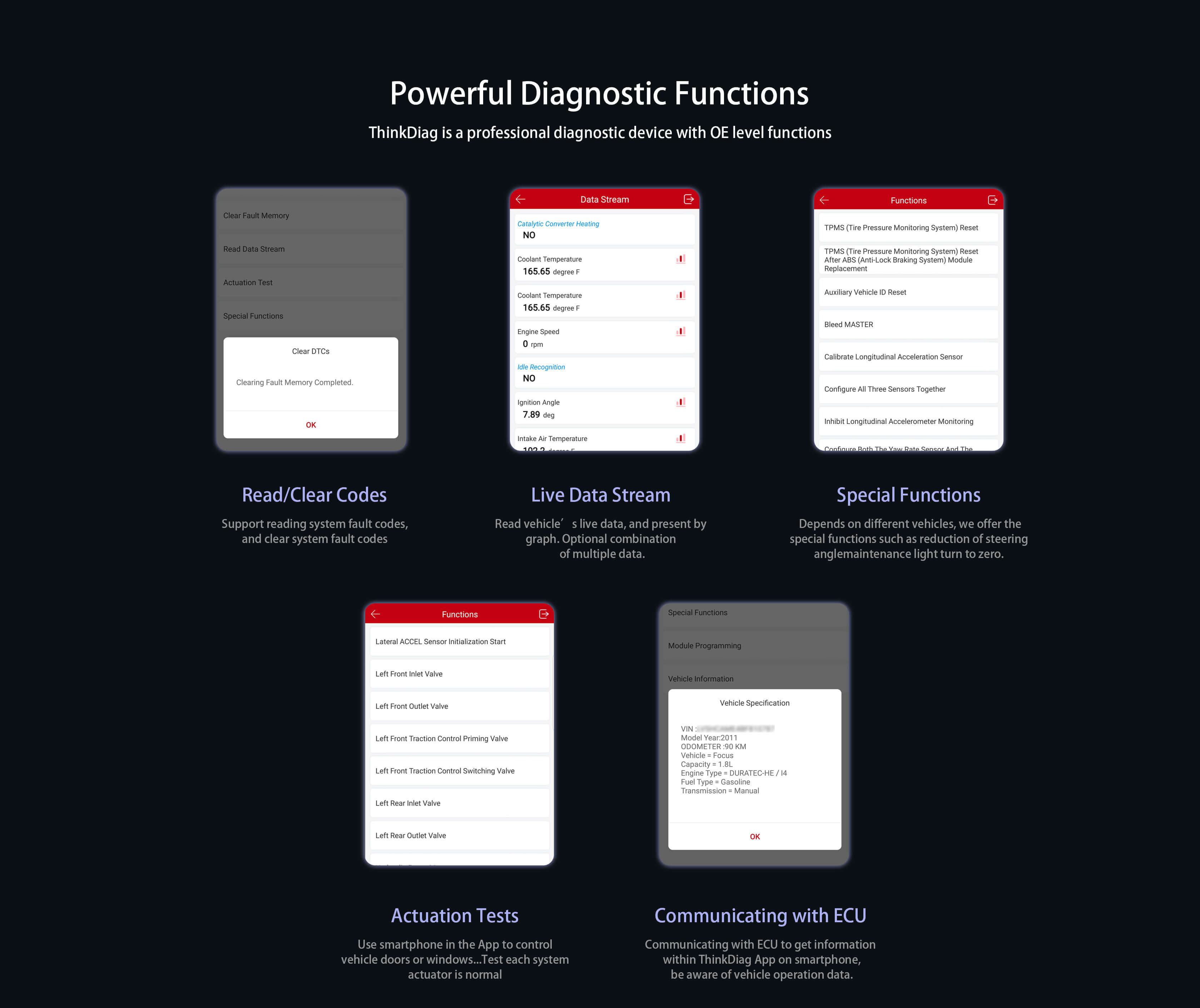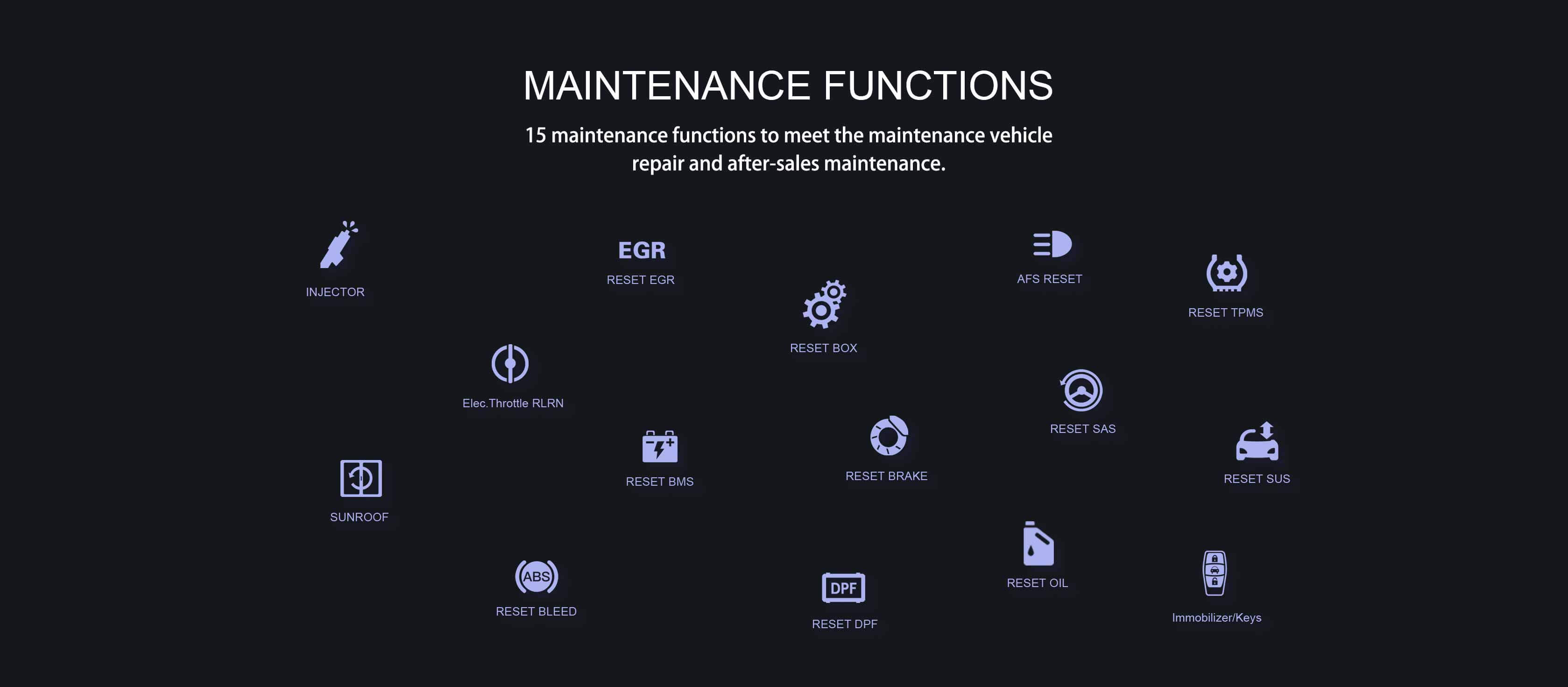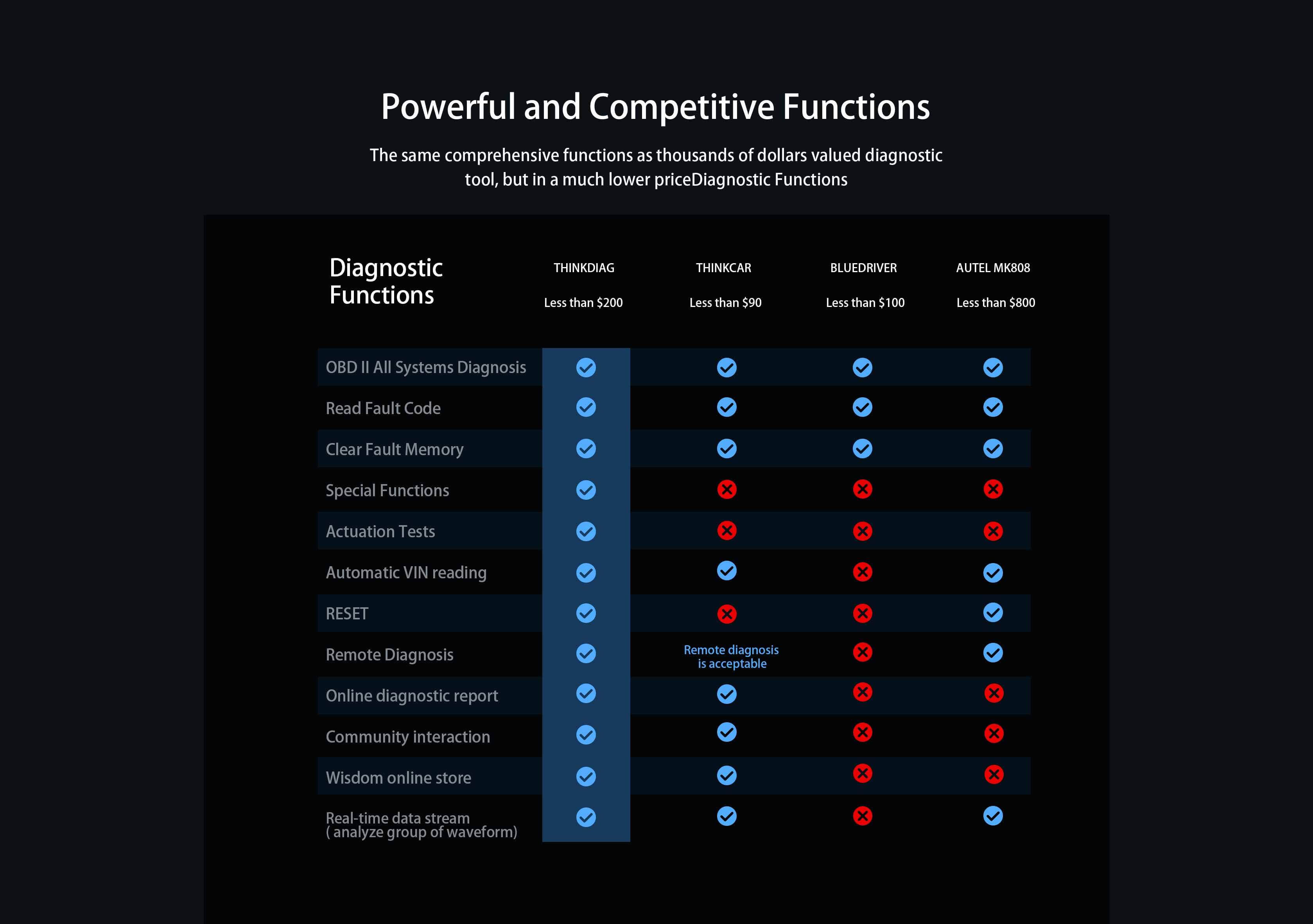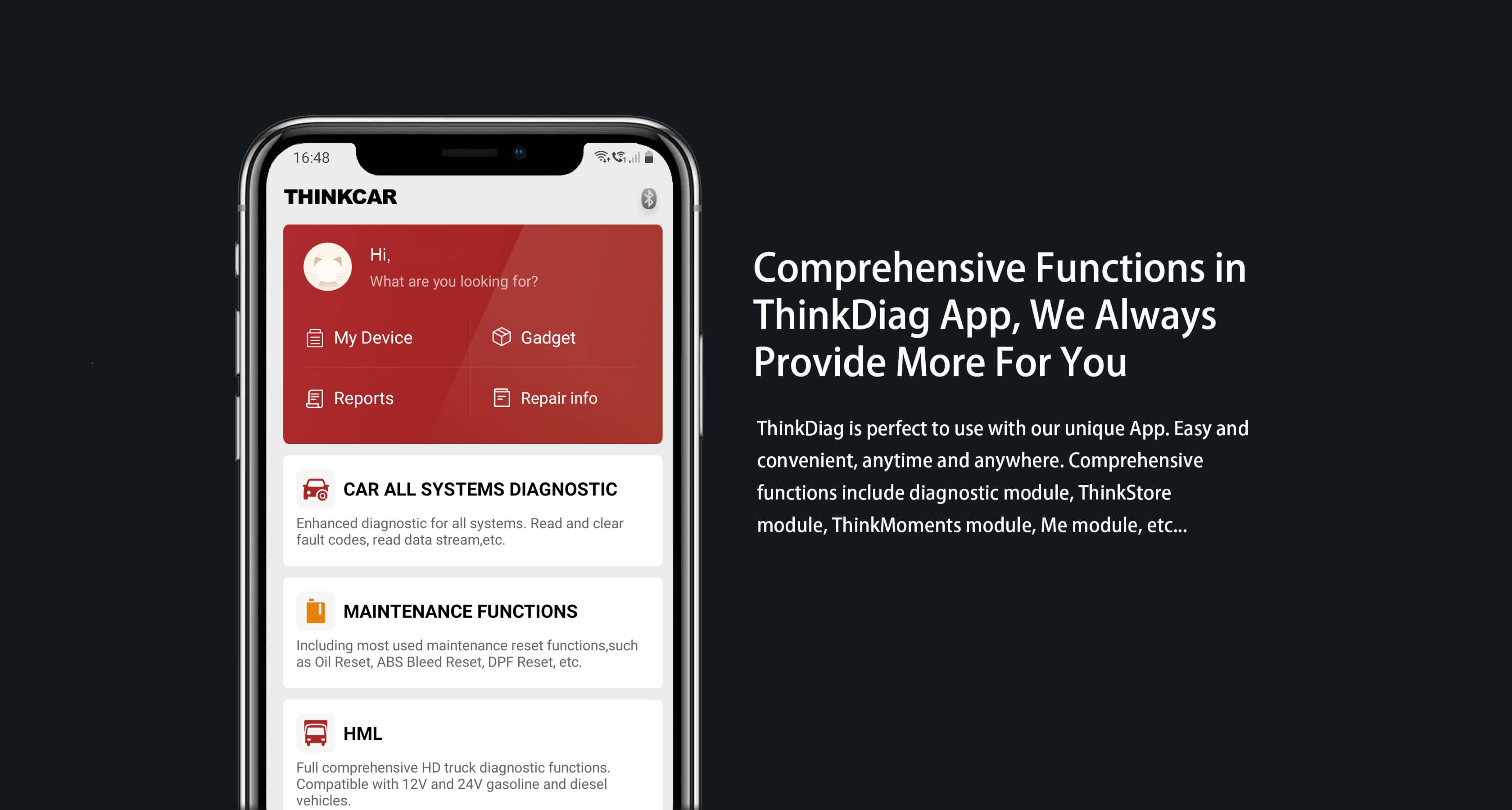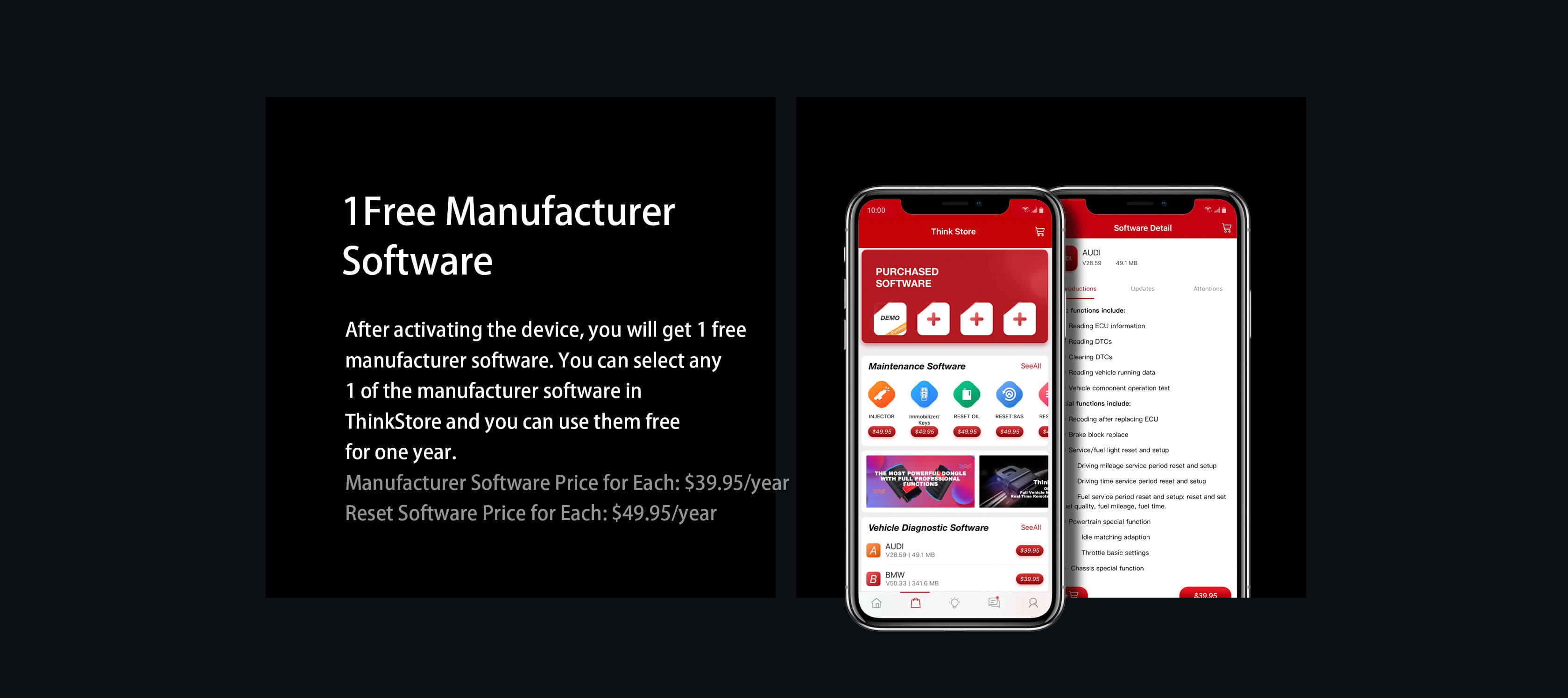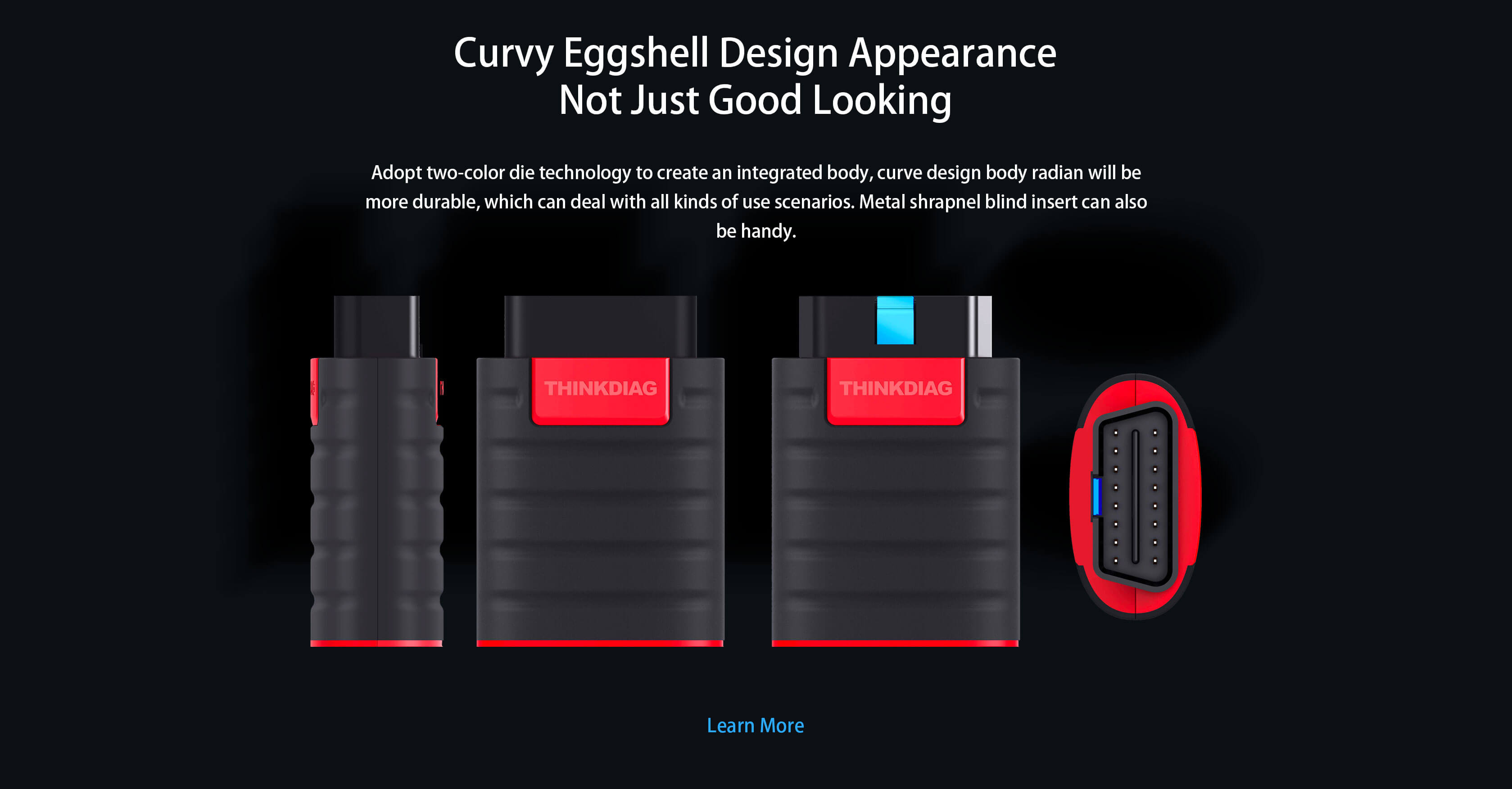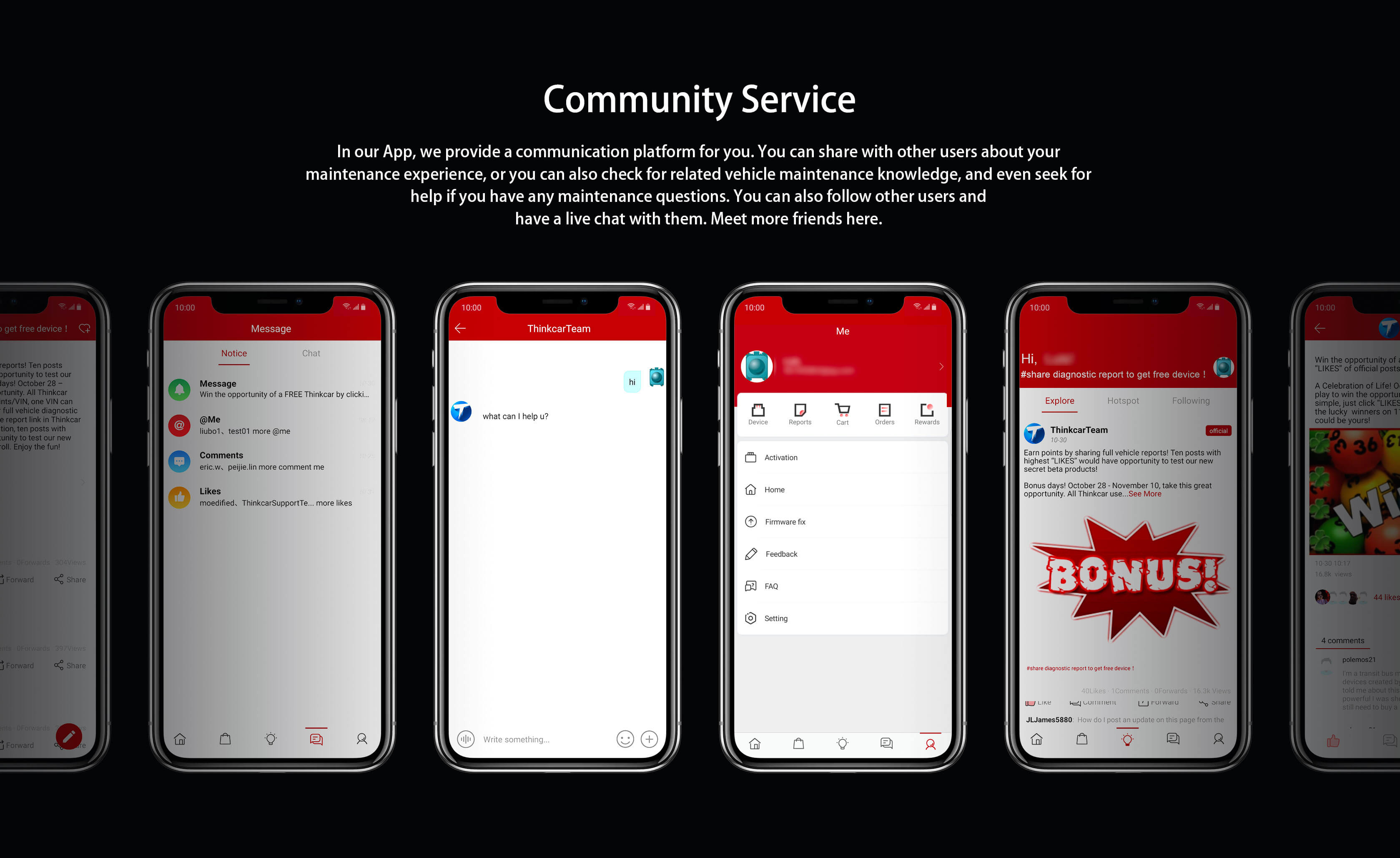 THINKDIAG DETAILED INFO
Our Story
The THINKDIAG is a powerful device enabling OE level diagnostics from your Android or iOS device including active tests and special functions via a Bluetooth OBD2 adapter and a app on your smartphone or tablet. In early 2020, there wasn't any European based distributors of the THINKDIAG but we were dedicated to change this as we wanted to give consumers an alternative to buying from Asia or America.
We are now one of the largest European based distributors of THINKDIAG OBD2 devices. Our company is run by myself Emma Brown, we are based in Stoke-On-Trent in the United Kingdom and all of our stock is also in the UK, as a result of us sending from the UK some countries may charge you import fees so we advise you to check your countries import tariffs before ordering to make sure you are fully aware of any additional costs that you may receive, if you need any information from us to help you with this please do message us.
For anyone located outside the UK or Europe we recommend that you take a look at MyThinkCar.Com as they are like ourselves, a safe trustworthy company to deal with that will give you good service and they will normally dispatch and deliver your order faster than asia based sellers unless you yourself are located in Asia.
ThinkDiag Intro
ThinkDiag Diagnostic Tool
Your professional car technician diagnostic tool, ThinkDiag is an automobile diagnostic tool with professional grade functions. Simply plug the ThinkDiag dongle into your vehicle, connect it to your smartphone or tablet via Bluetooth and your smartphone will then become a professional diagnostic tool with the similar functionality to much higher priced equipment with nearly OEM level diagnostics at a fraction of the cost and it looks good too! It has a curvy, egg-shaped casing for improved durability whilst keeping the size compact for great portability. Each ThinkDiag comes with one manufacturer or all manufacturer software subscription depending the package you purchase but more subscriptions can be purchased from within the app.
The ThinkDiag OBDII adapter has had many amazing reviews. ThinkDiag speaks for itself, it is a truly must have piece of kit that that every mechanic or car owner should own! Previously, your only option was to either buy an expensive device for your diagnostics or a cheap fault code reader that did not have all the relevant functionalities, especially on the newer models of car. You could instead pay someone to do your diagnostics for you, in many cases costing much more than your ThinkDiag. ThinkDiag revolutionized this and now you are able to get a professional device which includes the Launch Software. Launch also makes the software for the devices costing 1000's that garages use but without the expensive price tag enabling both mechanic's and car owners to save significant money without compromising on quality. ThinkDiag supports many brands and models of vehicles including this years cars allowing live data to be graphed, enhanced manufacturer specific codes to be read/cleared, many special functions and actuation tests as the ThinkDiag is bidirectional OE level tool.
ThinkDiag Different Versions
The ThinkDiag Standard and the Pro are the same hardware device. However, the ThinkDiag Standard comes with one free brand for 12 months whereas the Pro comes with all brands and all resets included for 2 years. If you need to use the device on multiple brands of car we would recommend the ThinkDiag pro. Otherwise, if you only require using the ThinkDiag on one brand we would recommend the standard ThinkDiag.
Who Needs The ThinkDiag
Who is the Thinkdiag for
Thinkdiag is an OBD tool that uses Bluetooth to connect with a smartphone or tablet. It is an economical and portable diagnostic tool for car enthusiasts and mechanics. Thinkdiag is composed of the Thinkdiag Dongle and Thinkdiag App, which can install client software and diagnostic software, to carry out vehicle fault diagnostics and read vehicle information. Thinkdiag connects to the vehicle's OBD port and communicates wireless with the smart phone or tablet via Bluetooth. Thinkdiag can be compared to any professional and expensive diagnostic equipment. It can scan the full systems which including reading version information, reading fault code, clearing fault code, reading data flow, actuation test, ABS bleeding, etc.
Thinkdiag aims to provide affordable, high-performance products for mechanics, garage techni-cians, and individual owners who enjoy working with vehicles.
Some scenarios are:
1. If you do door-to-door service or road rescue, whether it be maintenance or repair, a portable Thinkdiag is the best choice.
2. For garages, instead of using an expensive diagnostic tool, Thinkdiag can be considered as it is so powerful and covering all diagnostic functions.
3. For DIY users, when basic OBD equipment cannot meet your high demands, the powerful 'Thinkdiag' will be able to diagnose more and make maintenance easy.
4. The Lightweight and compact design make the Thinkdiag the ideal tool for people who have certain maintenance skills and, to carry affordable Thinkdiag diagnostic equipment.
Thinkdiag is not a simple basic OBD scan tool, it's a professional diagnostic dongle. For the vehicle diagnosis, it can do almost OE level and bidirectional functions. For maintenance resetting, it includes but not limited to Maintenance Light Reset, DPF Regeneration, Brake Pad reset, Steering Angle Reset, Battery Matching, ABS reset, Throttle Matching, Tire Pressure reset, Anti-Theft Matching and more!.There are separate maintenance functions but also every car brand has its own special functions accessible under the car brand, for many cars there can be hundreds of actuation tests and special functions combined.Not every special function can be used on every car because the support does depend on the make model and even the year but this is the same with most expensive professional tools to. We are confident that you will be very impressed by the avalible special functions that the thinkdiag offers.
Purchase And Shipping
ThinkDiag Purchase
You can buy the ThinkDiag directly from us via our secure online store on this website. To do this at the top right of the site click the online store button, select your model and quantity, confirm your shipping method and proceed to pay via paypal. We only accept paypal on the website because it is safe for both ourselves and our customers. Alternativy we have a eBay store Click here for UK Thinkdiag OBD2 Ebay but due to ebay fees you may find that the prices are not quite as good as what they are on the website.
Shipping Countries And Times
We ship to most countries in the UK and Europe including the EU but we do not ship to contries apart these, the full list of countries can be seen at checkout but please contact us if your country is not listed and we will endeavour to try and help. We find that most of our order's for the ThinkDiag are from the UK and this is no surprise with us being based here but this is closely followed by France, Germany, Spain, Netherlands, Finland and Bulgaria. However, we do also have many orders from all of the countries within in the Europe.
Your shipping time depends on the destination country, the guaranteed delivery time by UPS or via royal mail can be different depending on the country. However, the delivery time is shown in the store after you select your country which will be catered to you. We ship all the ThinkDiag devices from Europe and not China, by ordering from us you should get your device much faster compared to sellers outside of Europe, before ordering please always check your countries tariffs to prevent a unexpected customs bill for import duty or import vat and contact us if you need any information from us to work this out.
Supported Car Brands
On Android devices the current brands are supported for enhanced code reading/clearing, actuation tests and special functions to a near OE level:
Abarth - Acura - Alpha Romeo - Aston Martin - Audi - Bently - BMW - BMW Hc - Bugatti - Buick (China) - Cadillac - Changan - Cherry - Chevrolet - Chrysler - Citroen - Dacia - Daewoo - Daihitsu - Dodge - DF Honda - DF Nissan - Ferrari - Fiat - Fiat (Brazil) - Ford Europe - Ford Usa - GM - GM (Brazil) - GMSA - Gonow - GTR - GWM - GZ - Honda - Haima - Holden (Au) - Hyundai - Infinity - Isuzu Jp - Isuzu Tl Jac - Jac Refine - Jaguar - Jeep - Jinlong - Karry - Kia - Lamborghini - Lancia - Land Rover - Lexus - Lincoln - Luxgen - Mahindra (India) - Maruti (India) - Maserati - Maybach - Mazda - Mercedes - MG (SAIC) - Mini - Mitsubishi - Nissan - Opel - Perodua (Malaysia) - Peugeot - Porsche - Proton (Malaysia) - Renault - Roewe (SAIC) - Rolls Royce - SAAB - Seat - SGM - SGMW - Skoda - Smart - Sprinter - Ssangyong - Subaru - Suzuki - Tata (India) - Toyota - VAS - Vauxhall - Volkswagen - Volvo - Zotye - ZX Auto - ZZ Nissan .
We also support standard OBD code reading and clearing codes for up to 115 car brands with many special functions avalible through the separate reset software's.
The Thinkdiag supports more brands on the Android system than the iOS system but we are constantly adding support for new vehicles on both Android and iOS but for ease we always advertise the supported car brands assuming the user is using the Android system. Please always contact us directly to check your vehicle support and coverage because different makes, models and even years have different coverage with regards to special functions and actuation tests. To check the brands that are avalible but not the exact functions you can download the app from the app store. Please always check with us via the site as we can not be hold responsable if you have not checked the coverage by using the contact form above or emailing us. It would not be fair to hold us accountable for descriptions or promises given by anyone but ourselves.
How to use the Thinkdiag
How do i use?
1.Plug ThinkDiag into vehicle's OBD port, open ThinkDiag App on your mobile phone.
2.If the device has not yet been activated you will be prompted to do this.
3.Select All Systems Full Functions Diagnosis
4.Read vehicle's information automatically
5.Start communicating with ECU, scanning fault codes
6.Select function to use depends on your needs (special functions, actuation tests, clear codes, etc)
7.Generate a diagnostic report
Thinkdiag Features
- Advanced Full Vehicle Scan Performs scans on your car for vehicle specific DTC and supports functions such as reading or clearing dtc codes, performing actuation tests, resets and live data streams.
- Identify VIN Information Automatically means there is no need to input your VIN manually and this will allow you to identify the vehicle and other relevant information.
– Portable, strong and advanced diagnostic tool that fits in your pocket unlike bulky diagnostic tools but not lacking the features. Thinkdiag is a powerful tool offering advanced features and functions which until recently we're only available in tools costing thousands.
– Enhanced tests for full electronic control system (examples ABS SAS SRS).
– Actuation tests allow you to test each system actuator for example: lights, windows, wipers plus many more to help identify malfunction causes.
– Special functions Performs special actions to your car model or system of 115 car brands that are specific to each car brand for example DPF Regeneration and Steering Angle Sensor Reset.
– Unrestricted Full OBDII and EOBD functions for full system scans to help you make informed car maintenance decisions and avoid spending unnecessary service fees.
– Live data stream reads your vehicle's live data and displays graphing to give you a visual comparison of multiple real-time data to better understand your car.
– Bidirectional functions enabled you to communicate with ECU to send and receive information within the ThinkDiag app on your smartphone, including vehicle operation data.
- Downloadable Diagnostic Report is a full report of the vehicle that you could share digitally or this could be printed for your customer or used for own reference whilst doing repairs.
- Software Subscriptions, one brand Thinkdiag allows 12 months access to ALL diagnostic functions, including read/clear codes, live data streaming, actuation tests, and ALL maintenance functions of your vehicle brand. The all brand Thinkdiag Pro offers you 2 years full access to all brands and resets across the entire app.
- Maintenance Functions Software, there is a vast array of maintenance software you could sign up for independiently or via any car brand you are subscribed to. If you have the Thinkdiag Pro you will have full access to all of the maintenance software and brand software.
Diagnostic Functions
Diagnostic Systems Supported
Setting up your device for the first-time
Frequently Asked Questions